Azure Site Recovery provides Business Continuity solution by helping us to replicate Azure on-premises workload to Azure. It replicates workload to secondary location either Azure or on-premises. So Azure Site Recovery helps to deploy simple BC DR Solution and options to store data on on-premises or on Azure. It has various feature like encryption while replication data, app consistent replication and very less RPO and RTO to meet your requirements. You can test failover by the feature provided by ASR for DR drill too.
There are two ways to configure Azure Site Recovery, one is directly from Azure VM options and another one from 'More Services' option.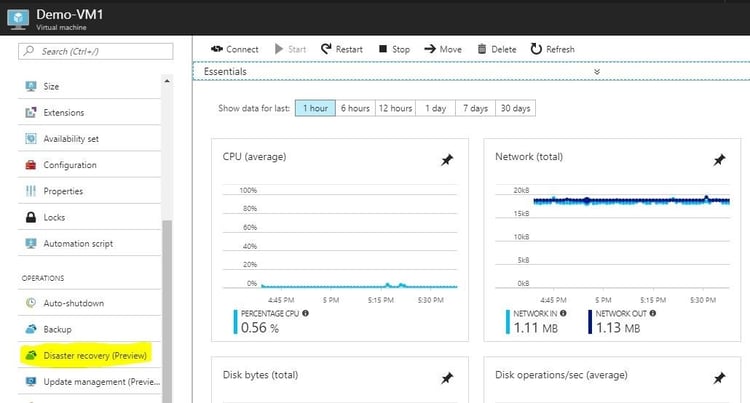 If you are going to configure it from VM option then it will provide you various options directly, such as it will provide you the options of available target Azure Region List where you can configure Replication.
Click on Crete new Recovery Service Vault, then it will ask you for Details like Recovery Service Vault Name, Subscription, Resource Group name and Location for Recovery Service Vault.

(P.S The Recovery Vault should be in the different Region from where your VMs are running)




In Recovery Service Vault, there are three options from where you can configure the Replication for Azure VM into different Azure region for DR plan.


Next, click on Replicate to Configure Azure VM site recovery, then it will open a new blade and ask for following details.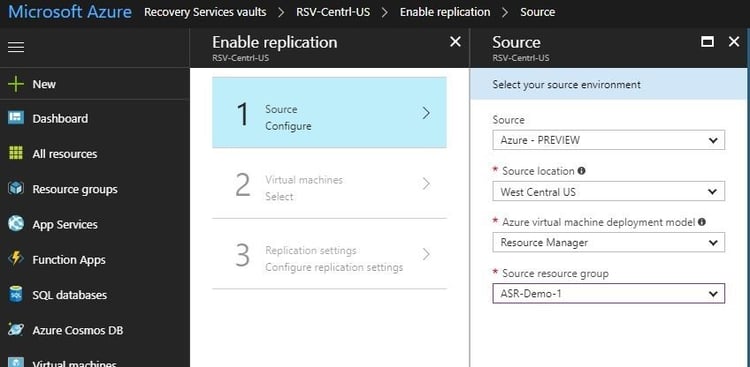 Select the source, source Azure VM location i.e. Azure region and Deployment Model (Classic or Resource Manager) and select the source resource group where the VM is currently running.


Then it will show you the all VMs available in that particular Azure region and Resource group with the selected Deployment model.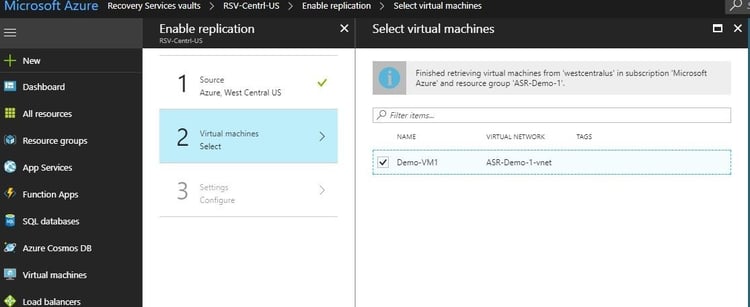 After selecting VM, specify the Target resource details including the Target location, and Target Resource Group Name, VNET Name, and storage account for name including the cache storage account name which is used for cache purpose in case of copying the data from source Azure location to target Azure location. Also, there is an option to select Target Availability Set but it only allows if your VM is currently in AV set.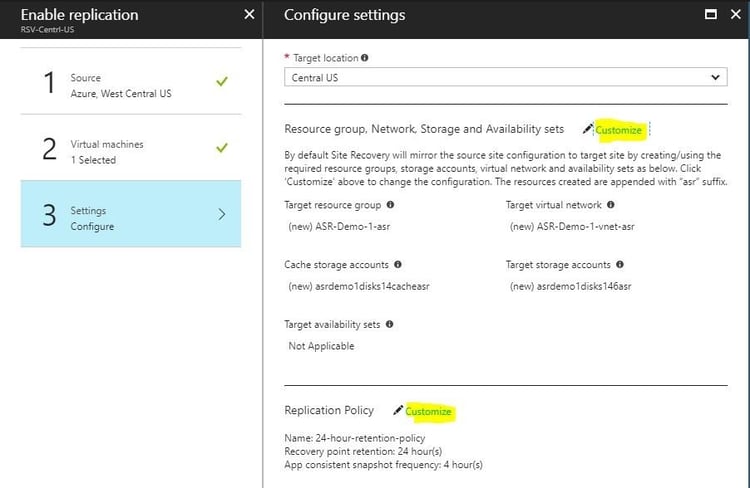 By using the Customize tab you can edit the above parameters and also able to customize the Replication Policy. Here are options to provide the Replication policy name, the retention period for Replicated VM data and the app consistent snapshot frequency hours. The app consistency helps when we have multiple VMs in Resource group and at some common time we want all VMs backup at a single time so they will be consistent in case of Failure of primary Azure region and Replication and creating VM from replicated storage data.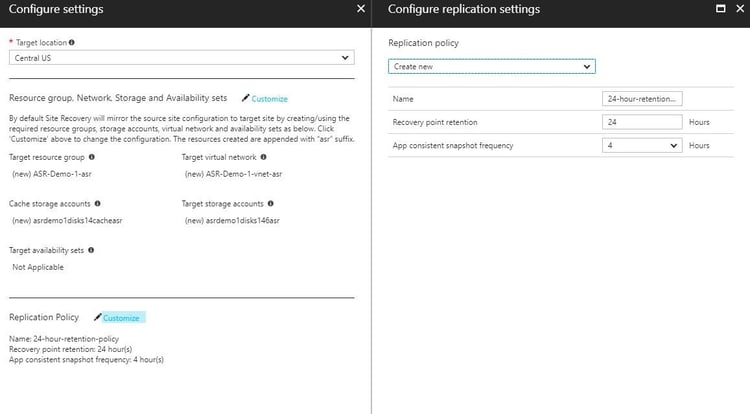 Once this is completed, select on create target resource so that it will create the target resources including Azure Resource Group, VNET and storage account in the specified Target location. Click on final Enable Replication so that it will configure and start replication server to target Azure region as per the specified replication policy.

If you want to monitor the progress of ASR job then go to Jobs and select the Site Recovery Jobs.
It will show you the all jobs regarding the site recovery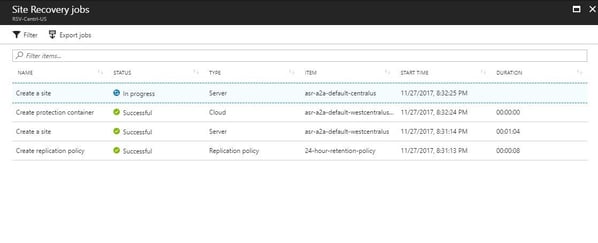 Azure Site Recovery for On-Premises Servers.



Go to Azure Recovery Vault to configure on-premises server recovery. Azure Site Recovery services support the on-premises server recovery to Azure and to on-premises itself also.


Before configuring the on-premises server Site Recovery to Azure, we need to prepare the on-premises infra and you can configure it in Azure Recovery service vault getting started option and from there select Site Recovery and Prepare Infrastructure.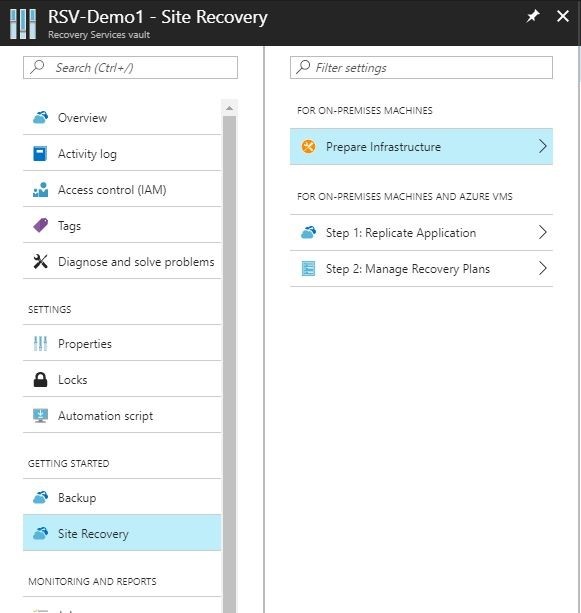 Then select the protection like which workload we are looking to protect using Azure site recovery service and which of the target location includes Azure and on-premises then select which source workload you are looking to replicate in Azure or on-premises including Hyper-V VMs, VMWare VMS and bare metal physical servers.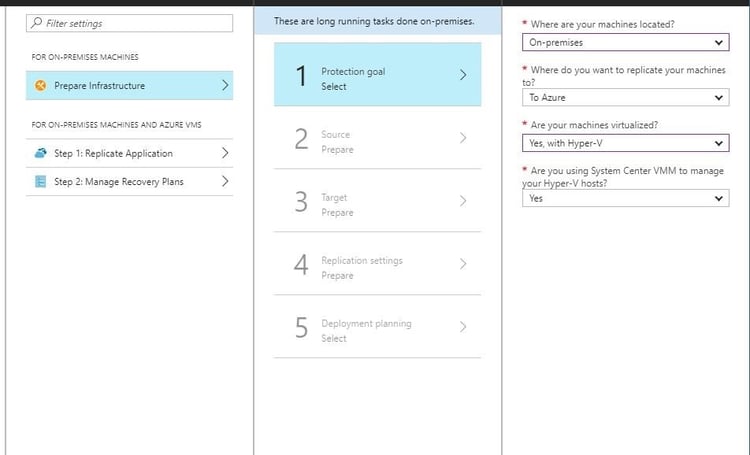 Then configure the Azure site Recovery agent on particular server and register that server to Azure Site recovery by following the instructions shared by source 'prepare tab' to respective workload.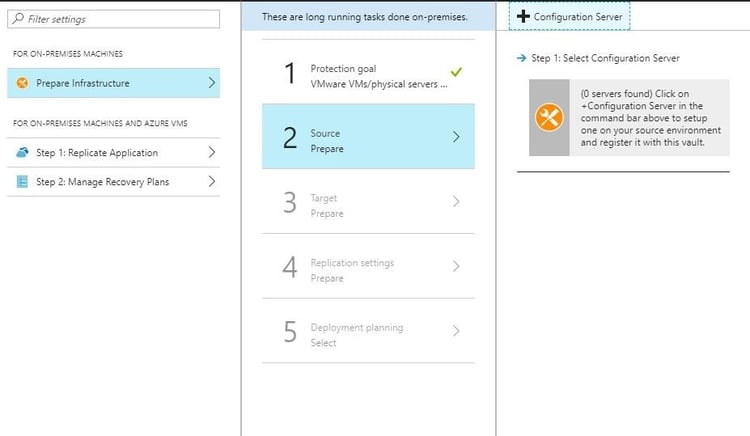 After configuring source server, provide the details for Target prepare and then provide details for Replication setting like Replication of data.

In the last tab provide the details for Deployment planning such as when to start creating server in case of source failure or any challenges in source servers.

After completing this Prepare Infrastructure step we can replicate the server to Azure or on-premises where we can provide the Target Azure resources details and Replication and retention policy.
In case of on-premises server endpoint, it should be configured using Azure Traffic Manager with active passive or primary secondary configuration. This to ensure that in case of on-premises server failure the Traffic Manager will route the server request to new replicated site automatically.

---
Read more about Azure Site Recovery and how to protect Your Workload Using Azure Recovery Services.