The power of Mixed Reality combined with holographic technology and Azure AI services could be well on the verge of transforming business in unimagined ways. This was demonstrated by one of the company executives for Azure at Microsoft Inspire partner conference recently held in Las Vegas.
Let us know about these technologies in detail and how you can get started using some of these services.
At Inspire this year, everyone witnessed the amazing demo of Holoportation which gave a glimpse of use, impact and possibilities of Mixed Reality and what it can offer to the end consumers and large enterprises, whether it is industrial automation, manufacturing constructions, aviation, or healthcare.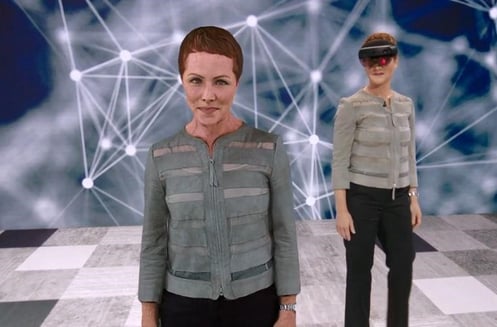 Image Credit – Microsoft
HoloLens 2 will set a milestone for Microsoft in their ongoing journey of Mixed Reality enabling many large enterprises such as Manufacturing, Aviation, Space technologies, Healthcare and Life Sciences to build new experiences each day.
Microsoft didn't stop only at HoloLens, they are already boosting developer ecosystem with Windows Mixed Reality, empowering developers and enterprises to bring AR + VR together. Windows Mixed Reality is introduced with Windows 10 operating system to provide holographic and MR experiences that would take the HoloLens moment to the masses at a low cost. They are also making huge investments in the hardware to empower and support their partners to drive innovation in MR hardware like Immersive Headset and Motion Controllers.
The Inspire 2019 demo on Holoportation shows how the future will be with the right mix of technologies like Microsoft Azure, HoloLens2, Office365 and Microsoft Cognitive AI services and AI stack.
AI Services in Azure
Microsoft, after its successful adoption of Azure, is empowering its partners and enterprises to embrace their AI services that enable them to make their cloud hosted apps intelligent.
Microsoft Azure is not just another cloud platform, but it is now "Intelligent Cloud". Previously, we saw Machine Learning (ML) and AI in different forms but now we see them everyday in the form of Intelligent Edge, Devices (IoT services), Chatbots (Conversational AI), Predictions & Forecasting (Machine Learning), Search, Translation, Text Analytics, Computer Vision, Face recognition and many more (Microsoft Cognitive Services).
All these services are powered by a solid backbone of Azure infrastructure and services allowing AI services to scale on demand, maintain high availability, data security and best optimised by end to end performances.
Microsoft AI Services stack can be classified into 3 core streams as mentioned below:
Microsoft Cognitive Services

Microsoft Conversational AI

Microsoft Azure Machine Learning
Microsoft Cognitive Services
When we talk about AI, the natural language input and interaction is vital. Hence Microsoft made a handful of trained services under the title Microsoft Cognitive Services Suit having a set of services like Vision, Speech, Language, Knowledge and Search. These are basically a set of APIs which you can easily consume in your application irrespective of whether the application is based on Microsoft.NET framework or not. These are hosted inside Microsoft Azure and you can create a Cognitive Workspace within your application subscription to consume them. You also get a token for validation against your application and API. The token is a mechanism to validate requests made to Cognitive APIs from your applications. Cognitive Services/APIs like Face API, Emotions API are widely used in HRMS, Government and various other domains where face recognition and emotional intelligence is required or an integral part of the business. Similarly, for the voice input we have Speech APIs which allows you to convert Text to Speech and Speech to Text. Language APIs allows you to process the text and helps you to recognise the language and what users want. In short, Cognitive Services help you to enable natural communication or interaction with ease for your application.
To know more about how to get started with Microsoft Cognitive Services, Visit this URL: https://azure.microsoft.com/en-in/services/cognitive-services/
Microsoft Conversational AI

Microsoft Bot Framework helps you build conversational apps or platforms which allow users to interact with application by text or voice primarily and get fast and fluid response for the same from application side. A Bot can be a very basic piece of software which can simply do a job of pattern matching to give response for the query by a user or it can be very complex, and data driven in existing business services. Bots can be built using languages like C#.NET and Node.js. Bots Framework allows you to do hassle free integration with other systems like Facebook Messenger, Skype, Microsoft Teams, Twilio, Cortana, Slack, Emails and even your custom build web application too. Cognitive services can also be integrated with bots to add more intelligence to the entire business workflow.

Microsoft Health Bot:
The Microsoft Healthcare Bot is a cloud service that brings conversational AI to healthcare designed to empower healthcare organisations to build and deploy AI-powered virtual health assistants and chatbots that enable self-service, drive better outcomes, and reduce costs.

Microsoft Azure Machine Learning
Microsoft Azure Machine Learning gives you freedom to use your data in any format, anywhere – online or on premise and any data store (it doesn't have to be SQL server always). You can build predictive analysis using some built in algorithms as well as your custom algorithms that allow you to build and train data models in order to achieve maximum accuracy in your predictions. Also, it allows you seamless integration in any of the application stacks you have (it can be Native, Web or Mobile as well). Azure provides state of the art Machine Learning Studio (Azure ML Studio) where you can create your workspace for your ML Projects and can add data sources, algorithms at ease. This also allows you to test the overall flow and training of your models. You can use your Python or R skills for Azure ML Algorithms. Azure ML provides enterprise grade templates which make your data preparation and processing, data engineering, model training and deployment easy.
Microsoft's AI Vision and Roadmap
Microsoft also recently announced their vision on "Ethics in AI". To align partners and enterprises to it, they have started initiatives like "AI for Business" for CXOs to adopt the correct AI services for their line of business and unleash more business opportunities. "AI School" for new age developers and traditional .NET stack developers to leverage AI services running on Azure into their apps making their apps more intelligent. Recently Microsoft started two new initiatives for AI -
AI for Heritage – with Microsoft AI stack helping people to preserve languages, places and historical artefacts around the world and enabling people to solve humanitarian issues and create a more accessible and sustainable world.
AI Accelerate Program – This is an end-to-end program helping partners bring AI solutions and capabilities to market at a faster pace with services like Microsoft Azure Machine Learning, Knowledge Mining and other Microsoft Cognitive Services.
Summary
Satya Nadella, CEO of Microsoft, has made a clear vision and shared the roadmap of Microsoft for the coming future to partners and end customers emphasising how Azure is a solid cloud platform and backbone for all MR and AI services coming to enterprises. "Azure, the World's Computer" as quoted by Satya Nadella is going to be the main core component of all MR and AI solutions going forward which will be the key to unlock many unexplored areas and avenues and will have an impact on everyone's life in some or the other form. Possibilities with Mixed Reality are endless especially with devices like HoloLens2. Microsoft is doing a lot of investments in this area and encouraging entire partner ecosystem to build something meaningful together. Microsoft is not only talking about Mixed Reality and Azure AI as technologies but strongly integrating their vision with partners and enterprises ensuring the entire ecosystem is aligned to it.