Are you looking forward to discover how Microsoft Azure can help in scaling your business and provide flexibility by making your IT systems productive and agile? e-Zest being the gold partner of Microsoft and partner for Microsoft Azure provides an excellent opportunity for new and existing users to understand how to deploy, migrate to Azure cloud and improve its utilization. The detailed workshop conducted by e-Zest is aimed at providing guidance to our customers to benefit from Microsoft Azure cloud.

Workshop conducted by Azure cloud experts from e-Zest's Microsoft center excellence team.
Gartner has named Microsoft a leader in its Magic Quadrant for Cloud Infrastructure as a Service (IaaS), Worldwide, Enterprise Application Platform as a Services (PaaS), Worldwide.
The table below explains about the Gartner MQs for IaaS, PaaS, and SaaS solutions for the enterprise workload.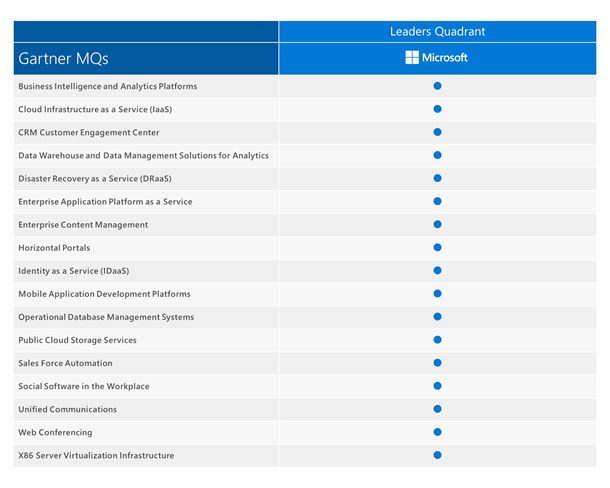 If you'd like to view the detailed comparison with of Microsoft and other quadrants, read here.
What is "Azure everywhere" workshop?
e-Zest's Azure workshop are custom-built to meet your requirements starting form early planning to ultimate deployment. The workshop is tailored by Microsoft with lot of research and analysis to address the challenges businesses face to adopt cloud platform (Azure). The objective of this workshop is to assist you in gauging a suitable approach for your organization to implement the Azure cloud. The format of workshop is interactive and can be customized as per your area of focus. Duration for the workshop is 4 days however, e-Zest is flexible with schedule and timings as per your availability. The Azure cloud workshop can be conducted online as well as on the desired client location.

e-Zest's workshop methodology is a brilliant approach for businesses to develop a right strategy to deal with challenging technology transitions.
Who should go for this workshop?
Enterprises, product owners, service companies and startups who are evaluating cloud platform (Azure) and wish to know benefits of moving their workload to cloud as a part of their growth strategy or cloud adoption strategy for business benefits.

Azure Workshop layout:
The program covers all the major details of Azure cloud starting from introduction to Azure, Azure PaaS and IaaS fundamentals to Azure advance topics following with the demos.
How this workshop will benefit?
Businesses to identify prospects and value added features while moving towards Azure cloud.
To perform all the groundwork and build a roadmap for the Azure migration.
To determine how Azure can deliver value and boost ROI within an organization.
Businesses to understand the best practices of Azure platform in an appropriate way.
To gain a clear visibility on the security and privacy while moving your data to Azure cloud. (Refer: http://blog.e-zest.net/myths-of-azure-security-privacy-of-data)
To leverage e-Zest's expertise on Azure cloud in order transform your business faster without jeopardizing it.
Who have already benefited?
Below are few clients who have benefited from the Azure workshop and successful migration.
Global Big Data Analytics Company:
About:
Client is a provider of Business Process Automation and Big Data solutions as a managed service. They have been providing the BPA services to global corporations for more than 20 years.

Challenge:
Client was facing scalability, security, uptime and infrastructure issues with their existing platform. They wanted to deploy an OpEx based platform rather than a traditional CapEx one.

Solution:
e-Zest suggested client Microsoft Azure, an only platform which completely aligned with their requirements. e-Zest provided them with complete knowledge of Azure IaaS and PaaS offerings. Client readily agreed to go with Azure cloud which resulted into uptime of service by 99.99% and a hassle free infrastructure management with minimal cost.
Largest Oil and Gas Company:
About:
Client is a combined oil and gas company having its presence across the globe from exploration and production to refining and oil retail. Client has more than 2000+ retail outlets across India and another 2500+ in various stages of commissioning.
Challenge:
Client wanted to move their existing product to Azure cloud but had lack of understanding for the Azure offerings. At the same time, client wanted to deploy Microsoft SharePoint in order to adapt according to the ever changing business trends.
Solution:
To cater the needs of the client, e-Zest provided a strategic roadmap for deploying Microsoft Azure services according to their existing app and infrastructure workloads. e-Zest also implemented global Azure IaaS platform for SharePoint within their organization.
e-Zest with Microsoft support, conducted "Azure Everywhere" workshop at both clients facility for 4 full days. After attending the workshop, client understood the importance of cloud technology, specifically Azure. Client comprehended the potential of Azure Services (PaaS, IaaS and SaaS). Workshop also helped the client to relate with Azure services and offerings according to their current applications, workload, storage and other IT infrastructure. e-Zest team assisted the clients to identify potential workflow to move to Azure.
With e-Zest's holistic approach, the process of moving to Azure cloud can be an easy task. e-Zest's being the gold partner of Microsoft aims in delivering real value by considering all the requests and standards essential while migrating to Azure cloud.
e-Zest has conducted hundreds of Azure workshop and have helped organizations to transform their business with Azure cloud migrations.
Contact us to find out more about the Azure workshops, schedule and other details here.