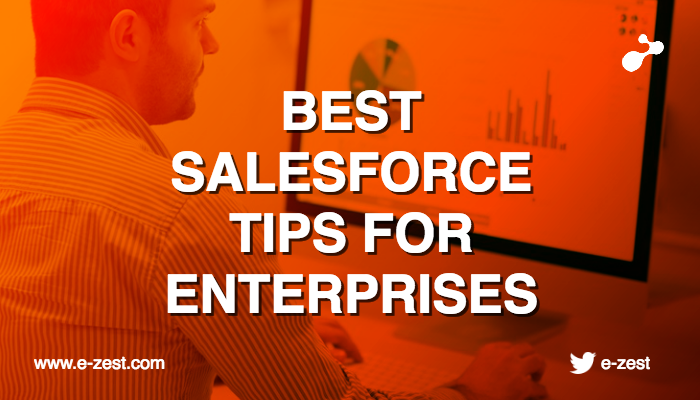 Salesforce, a renowned customer relationship management software offers numerous features and capabilities that help enterprises to develop customer relationship and build loyalty among them. It also enhances their sales and manage their customer contacts effectively.

Though Salesforce provides enterprises with lots of benefits, managing the platform can be complex at times. However, below are few tips to help enterprises in effectively managing their Salesforce software.


Use your mailbox to access Salesforce: Salesforce includes wide-range of business solutions, of which email integration is one. The Salesforce IQ inbox blends up well with the GSuite Gmail account. This integration is compatible with various email clients that include Outlook as well. It systematizes all your data by syncing the contacts from your email. With this feature, enterprises can even incorporate their calendars with their inbox and generate leads by leveraging the inbox. This feature saves a lot of time and efforts.


Automatically manage your contacts: The Salesforce's Data.com service allows you to manage your customer contacts by entering the information automatically. This service removes the unwanted contacts and updates new information automatically. This easy-to-use tool boosts enterprise productivity. To help enterprises in getting more sales, the tool leverages different types of tracking and analytics solutions.
Furthermore, another tool Datanyze allows to search for new prospects, locate email address and create contact lists by automatically entering them into Salesforce.


Use Chrome browser for accessing Salesforce: With Google Chrome enterprises can save lot of time just by saving Salesforce search box as a search engine within the browser. With this technique one can have access to the Salesforce browser without even launching the actual Salesforce app. To access this feature, a user can just right-click on the search box and save it as Search Engine by changing the keyword to SF.


Make use of add-ons to automate meeting logs: Maintaining meeting logs manually can be time consuming process. Thus, to automate this process, enterprises can use different add-ons. Another benefit of add-ons is that it can automatically log meeting requests in Salesforce. This feature is available in Confirmed app for sales representatives.


Automate lead assigning process: The round-robin assignment feature available in Salesforce allows the enterprises to automatically assign leads to sales reps by saving their time and enabling them to focus on more productive tasks. However, the round-robin is not a built-in feature, instead one will need to set it up by creating custom fields and a lead assignment rule.
Hope these tips will help you to make most out of the Salesforce platform. Feel free to comment if you have any other information to simplify the Salesforce usage.