Microsoft SharePoint 2013 is a single platform which solves many business needs of its users. Typically, business problems are solved by creating applications where SharePoint capabilities are utilized in primarily three ways:
Using out of the box features
Using third party tools
Using a custom development approach
Now, let us look at these three individual approaches in detail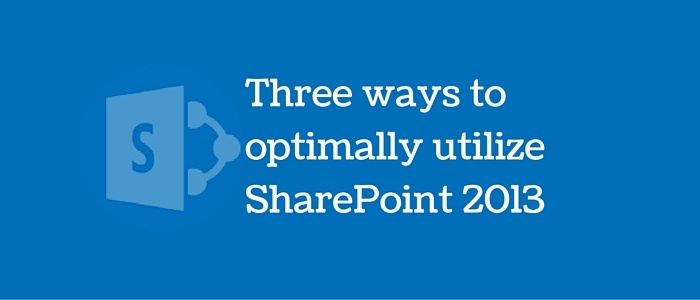 Using out of the box features
SharePoint 2013 comes with its own set of features that can be used in a standalone fashion or through little tweaks using Microsoft SharePoint Designer (SPD) (SharePoint Designer 2013 was the last version of this designer). Using its own features, you can create libraries of documents for collaboration, approve and/or review documents and perform complex processes in a shorter span of time. Using these features straight out of the box is a good idea if you want to get started quickly and perform only basic tasks. However, you will find it a little difficult to provide a good look and feel with this approach.
Using third party tools
A large number of tools, packages and features have been developed by ISVs and System Integrators (SIs) that can be easily used on top of SharePoint 2013. These include:
BPM platforms
Record management add-ons
Vertical apps (such as new product development apps for auto industry)
Document and process management apps (such as invoice, AR/AP)
You can choose any of these third party tools depending on your own unique requirements. For instance, if you need to build many processes and empower users with a drag-drop-design functionality, you need to opt for a BPM platform instead of a custom development approach. While using third party tools, you need to consider factors such as cost of licensing, scalability, deployment speed and vendor credibility.
Using a custom development approach
CIOs should think about a custom development approach when faced with complex processes, large and unique deployments, custom user engineering scenarios and available level of in-house capabilities. Some CIOs are forced to opt for custom development when there are no ISVs or lack of available support.