In my experience, the relationship between the product managers and engineering managers impacts how the product shapes up and takes off.
We have seen that sour, opaque and dictating relationships often lead to mistrust and bad product being launched. In this blog, I look at 5 areas that a Product Manager must focus on to make the relationship successful.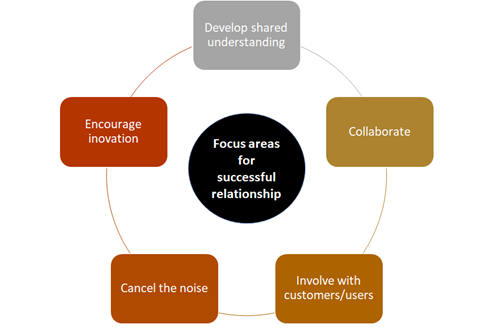 Product management activities typically include:
Understanding personas and users
Analyzing the competition and alternative products along with identifying the problems the product is going to solve
Iteratively working on value propositions, experimenting with the idea, prototyping
Taking accepted ideas thru to the development cycles before its market release
This is a complex process that lies in the balance between product capabilities/approach and product economics.
Product Managers work with different teams such as senior management, data science, engineering, and business teams including sales, marketing, legal etc.
Growth Product Managers focus on business aspects and the larger canvas whereas many other Product Managers focus on engineering facing activities based on the scope. A larger chunk of the work always is around technology development & engineering, and here is where collaboration and interactions begin for the Product Managers and the engineering team managers and members.
In modern technology-based products, major product development work is delivered by engineering teams. The work is iterative, involves solving complex technical challenges while creating a simple to use products/features. Engineering teams typically understand technology choices, their impact on the future, as well as hold the ability to convert the value propositions into digital features. Since engineering teams translate product vision, those become important stakeholders in product success.
In my experience some of the key factors make the relationship successful include:

1. Shared understanding - Product Managers must engage with engineering teams and help them understand the product vision, purpose of a specific story/ feature being discussed and user expectations. Shared understanding of vision ensures, engineering teams understand the outcomes expected and not just the output. In some of my encounters in these situations, heated & interactive conversations are replaced with tools. Good product managers also avoid technical solutioning discussion while they may know technologies well. The trust in the engineering team leads to innovative solutions for sure.
2. Collaboration - Key to successful engagement between engineering and product manager is smooth collaboration. Like I mentioned, engineers are trained to methodically think and create solutions to business problems thrown at them. The hand-off must be collaborative and build on shared understanding of the product.
Product Managers must know how technology staff thinks and works. An active product manager always spends time explaining the problem to be solved, showing competing alternatives available in the market, possible gaps and what could be a value addition overall.
3. Involve with customers - We all know that product managers and members of design thinking teams etc. work closely with prospect users early on and create MVPs, create demand and analyze what is desirable in a product. In my opinion, key engineering members must be aware of what motivates users to use the product and what hooks the users to continue to use the product. Good product managers also give timely feedback on every piece of work released by engineering teams. With some close customers, engineering team members interact to understand behavior and feedback to specific features/product areas too to ensure information is shared transparently and directly. This boosts the confidence of the engineering team.
4. Noise Cancellation - I have seen many engineering team members with noise cancellation earphones. I wonder if all of them are music lovers or always on call? Or they pretend to be to avoid casual and repeated disturbances? A wise product manager knows that the development team puts the highest concentration and intellect into the product. Their time needs to be cared for and managed as a precious asset. They should be kept away from unnecessary and long meetings that may waste their time.
5. Encourage innovation, reverse Hackathons etc.- Technologies are changing at speed. It's important that product managers encourage innovation programs in the teams by doing reverse hackathons where customers share problem statements and along with engineering teams try to build solutions.