"Compensation can be a two-edged sword if it is not managed properly"
The dynamic market environment of human resource concept, which is expanding beyond the borders of the world adapting and responding to all the changes not to just survive but to gain competitive advantage so as to sustain for a longer period of time.

It has become standard in today's market to pay employees wages and benefits through a compensation package, so here emerging companies need to balance and maintain good compensation packages so as to acquire and have productive employees without incurring unsustainable cost.
Compensation can be said as the total of all the rewards provided to the employees in return of their services and hence the purpose is to retain, attract and motivate employees and it leads to intensity of an employee's engagement. Human resources (HR), in conjunction with the hiring manager, is tasked with this process. So any sort of compensation provided to the employees by the organization other than wages or salaries considered to be a motivating factor for them and thus it leads employees overall satisfaction and result in productivity.

However, while planning for the best compensation strategies, organization must focus on its overall performance management practice of the individual employees.

This goes like...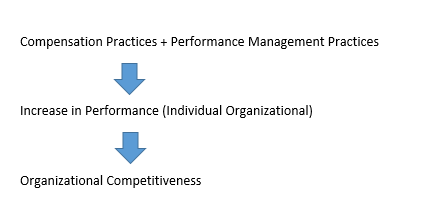 Compensation therefore be both competitive and well-designed to meet the needs of the employee and hence ensure a healthy and competitive environment at workforce.