Heard about Hearables? Yep, that's the newest bubble extending from the wearables space. While most wearables are designed for the wrist, this new category of wearables is built for the ear. As the name suggests, these devices are typically used to capture data through the ear.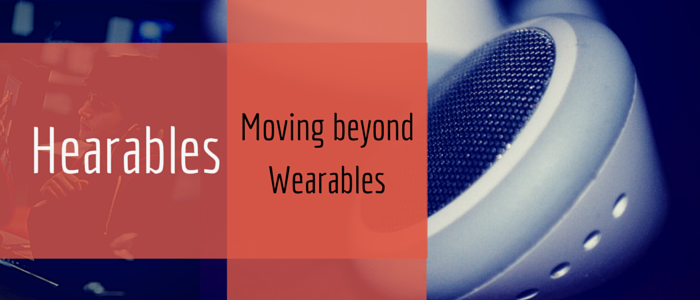 Hearables are exciting due to many reasons. Firstly, it just feels natural to adopt hearables. The first breed of smartwatches seem like a clunky, limited gadget for most users. The other gadgets such as Fitness trackers also seem like an additional burden to users. Hearables, thanks to our familiarity with headphones, can be adopted very naturally. They also come in the forms of smart earrings.
These ear-loving devices can be a boon for the healthcare industry. It can help healthcare professionals to collect and track valuable data from their patients. It can also be connected with apps on the smartphone. You can easily track things such as heart rate, oxygen intake, body temperature and other such health data.
The current breed of hearables are looking to cash in on the fitness trend. Bragi, a German company, has launched a smart in-ear headphone that can be used to listen to music as well as receive feedback on fitness activities. Valencell is yet another firm which is focused on hearables for the healthcare industry.
Another company which is doing interesting things in the hearables space is Doppler Labs which is trying to "change the way we hear the world". The company has just raised $17 million from investors.
A few reports have suggested that the world will be spending $5 billion on the hearables segment by 2018. Experts think that Apple has the potential to become a leading player in the hearables category thanks to its acquisition of Beats. In fact, many people have predicted that the next interesting thing from Apple could be an audible device. Mobile giants Samsung and Google can also easily lead the market owing to their giant marketshare.
The increasing demand for hearables will also generate lots of opportunities for skilled IT service providers. Bragi has plans to release an SDK, through which unprocessed and processed data and audio feeds can be collected and integrated with applications. This will allow businesses to build interesting applications around the available data streams.
Hearables - Moving beyond Wearables? Our ears are open!