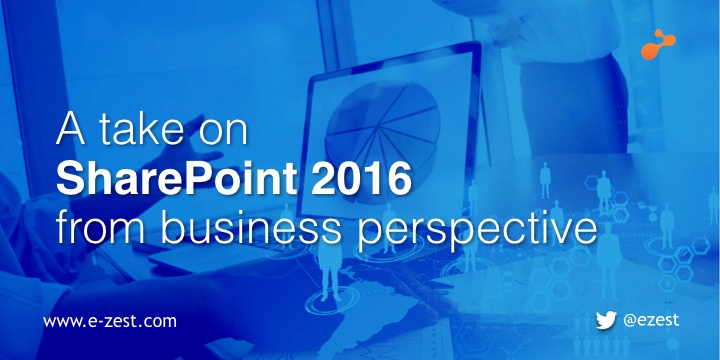 The SharePoint 2016 framework is a revolutionary innovation in SharePoint extensibility. Introduced by Microsoft, SharePoint framework is a mobile-friendly and low-code development platform developed to help struggling organizations in regulating with .NET expertise.

When SharePoint 2016 was announced, all the emphasis was laid on easing the life of developers. Fortunately, this classic platform addresses the varying business processes and functionalities as well.

Here is the overview of SharePoint features benefiting enterprise business.


Featuring client-side model:
The previous versions of SharePoint were centered towards server-side technology but the new Framework is now a reverse model i.e. client-side. This is the biggest step of Microsoft in the direction of mobile-friendly applications. The earlier versions of SharePoint were concentrated to HTML5 enhancements but creating apps with client-side technology is more than regulating with mobile devices. This architectural shift in SharePoint is for enterprises aiming to evolve the content and collaborative processes.

This transformation from server-side to client-side model brings the SharePoint applications close to Office 365 applications suite referring the Word, Excel and PowerPoint. The new SharePoint apps not only matches the design abilities of Office365 but functionalities as well.
Low investment model for development and maintenance:
Enterprises opting for SharePoint 2016 framework won't have to rely upon .NET expertise. This implies, the new SharePoint 2016 will not require any .NET developers for the application development. This is because, SharePoint Framework built using JavaScript makes the applications more robust and dynamic as compared to the server-side predecessors.

But then, will there be no need of .NET developers ever? A .NET project when developed from scratch involves more than 40% of resources. This will eventually end up in spending extra memory and storage in exchange of the time saved while deploying the site.

However, this can be considered as an advantage too, thanks to the decreasing cost of computing power. A project built by the developer will be far feasible as compared to a project built using a readymade platform.

Other features of SharePoint framework such as Patterns and Practices including the application design patterns, coding samples and reusable components were also introduced. These features will help enterprises to consider the SharePoint adoption positively.
Integration with other platforms:
From SharePoint 2007 to current version, there is a structural integration between Microsoft Office 365 product suite including SharePoint Online and SharePoint. This combination has made processes comparatively efficient and are interactive with other SharePoint pages. However, this feature is still in its beta phase but sooner or later will help in enhancing the SharePoint platform.
Here are my thoughts on how SharePoint 2016 can improvise the business processes and functionalities. If you would like to share your views on the same, please feel free to comment below.