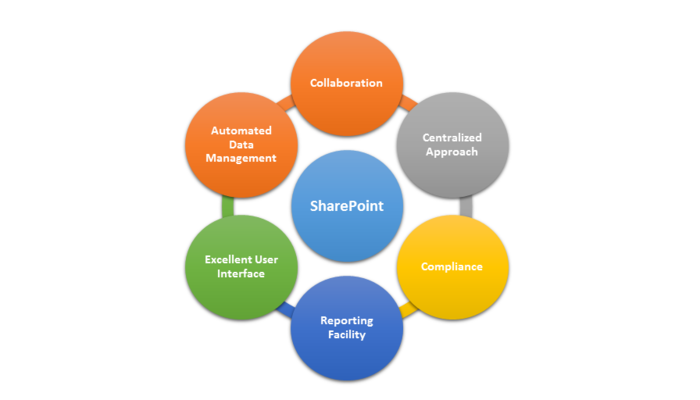 SharePoint, an excellent collaboration platform is used by numerous organizations to manage their tasks and resources efficiently. It is considered as one of the important tool for all organizational needs to share, discover and consolidate everything and it is vital for smooth functioning. On the contrary with wide range of benefits offered by SharePoint, lot of government organizations fail to comprehend the importance of SharePoint solutions.
Usually, government personnel's look for effective strategies that can boost productivity and lower the costs within the organization. With this blog post, I will try to highlight few benefits of SharePoint solutions that government organizations should consider while evaluating SharePoint solutions.
Collaboration

–

Collaboration is one of the most important feature offered by SharePoint

.

This feature can be used by government organizations who have multiple offices

worldwide.

Collaboration can enable employees to share and review information from any corner of the world without being physically present.

This can result into improved productivity and reduce

d

travel costs.




Centralized approach of SharePoint

–

SharePoint application allows to edit and manage data using a centralized repository. This centralized repository can enable troubleshooting issues by eliminating confusion to access files.

The centralized approach of SharePoint solutions can help government organizations to work smoothly by avoiding any discrepancies.




Compliance provisioned according to government norms

–

Government organizations usually tend to follow rules and have their dedicated compliances.

SharePoint

can easily synchronize according

to

compliances standards.

This feature plays a big role in managing and tracking documentations

and

makes the audit process hassle

-

free.




Seamless reporting facility

–

The government personnel's need to send regular reports and updates to their superiors

regarding their tasks, field visits, financial data, etc.

Considering this, SharePoint provides excellent reporting feature which can accessed

and shared

from any

location

.




Excellent user interface

-

SharePoint

is developed to provide steady and refined user experience to simplify the way people interact with content, processes and data.

SharePoint has a robust functionality which helps the government personnel's to adapt with the

user

interface quickly.




Automated

r

ecords

and

d

ata

m

anagement

–

It would be hard to deny

,

government agencies have vast amount of data.

It

is fetched from social media,

GPS,

sensors or street camera

and many more sources

.

Th

is

data is combined regularly by government organization

s

for analysis

. Using

specific

tools government organizations can integrate this

aggregated

data with SharePoint for

forthcoming

analysis for specific business and

reports. This automated data and record collection feature provided by SharePoint helps in

minimizing

the manual efforts.



Irrespective of the industry, all of the organizations are leveraging the benefits of Microsoft SharePoint. This collaboration tool can help the government organizations to make a difference by increasing the productivity and reduce the cost. Hope I was able to explain the benefits of SharePoint solutions.

If you need to know more, then please leave a comment below.