Before upgrading to HubSpot, I must tell you that WordPress is an amazing CMS. WordPress offers a great flexibility to deal with various functionalities through the plugins developed by the open source community. The WordPress plugins help to integrate different marketing applications with the website. On the contrary, the plugins used in the website need to be updated as the version of the WordPress itself, which requires expert team members. If you are not able to do that, you leave your website vulnerable to hackers.
In comparison, HubSpot is a marketing platform which is created to attract visitors, convert and close the leads. The term inbound marketing is coined by HubSpot. Instead of following a traditional approach, HubSpot marketing helps to attract the customers and backs the process of inbound marketing. With Inbound, HubSpot has become a great platform to deal with all of the online marketing challenges.
After a lot of research, HubSpot team has created an amazing process which is required by the marketers to boost their marketing and sales performances. Refer to the picture below.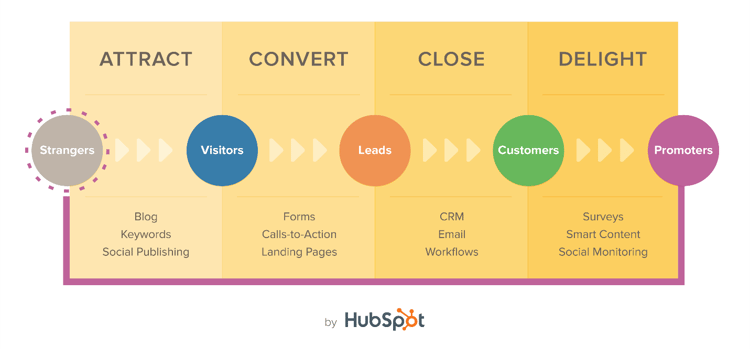 One must have a valid reason before migrating to HubSpot. It is a great marketing automation tool where one can manage website, blog, emails, landing pages and CRM through a single portal. Whenever a form is filled by the customers, the details of customer automatically gets added into the CRM. It's one of the great tool for marketing purposes.
Below are the various type of migration you can perform using HubSpot.
Blog migration
Website migration
CRM contacts migration (if you are using any)
Below are pre-migration points you need to check before migrating your blog and website to HubSpot.
Selection or customization of theme: There are lot of themes available in HubSpot marketplace. You can use the free themes or purchase one according to your business requirement. Furthermore, if you want to design the HubSpot theme then an expert HubSpot developer is required who can develop a theme for you. Hence, it is suggested to purchase or use the available themes from the Hubspot

marketplace

and customize it accordingly which saves a lot of time instead of designing it on your own and understanding the complex code.
WordPress widgets alternatives: If you are using WordPress, undoubtedly you are using lots of widgets in your website. The same widgets are not available in HubSpot, so you need to search for some alternative for the already existing. For example: We were using a widget which used to show the related information on sidebar having several internal pages links. To make that functionality work with HubSpot was difficult hence, we had to do it manually.
If you have anything to share related to the pre-migration, feel free to post it in the comments sections. I would love to add it.