An e-commerce business depends hugely on the data of its customers spread across the globe. Keeping the customers' data safe and secure is hence the top priority of e-commerce players. Cloud-based architecture being disaster tolerant, keeps the customers' data safe. A cloud-based platform with its built-in redundancy can hence save the business from data loss keeping the data secure, backed-up and easily accessible making it an ideal choice for customer-centric businesses.

It's a no-brainer to say the area which is hugely benefitting from cloud computing is e-commerce. Apart from the key factors like scalability, speed, security, cost and redundancy, there are many other keys of success in e-commerce business for companies using cloud platform.

Cloud services are undoubtedly making it possible for the e-commerce companies to reach its global customers and provide a customized experience to each one of them making the business operate extensively and grow exponentially which was once hard to even conceive.

The companies which are reigning are the ones which have embraced the cloud for the many opportunities they get to capitalize on – such as agility and innovation that can be directly linked to an increase in revenue. According to Gartner, a corporate "no-cloud" policy will be soon as rare as "no-internet" policy.

The massive amount of growth in e-commerce retail and B2B, C2C transactions in the last two years alone has been largely fuelled by cloud. Apart from cloud, the massive amount of investments in new technology forms like mobility, AI, AR-VR is giving a boost to the entire spectrum of e-commerce businesses. According to recent statistics by eMarketer, it is expected that the global e-commerce business will touch almost $25 trillion by the end of 2018 which is nearly 6% growth compared to last year and a double-digit growth is expected by the year 2020.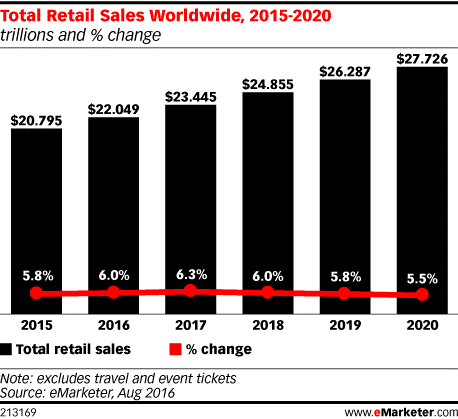 Recently Microsoft tied-up with retail giant Walmart to compete with Amazon (a market leader in various cloud-based services alongside e-commerce, AI and payment wallets etc). Beside its routine e-commerce business, Microsoft is adding more value with its cloud and AI services to enhance overall supply chain management by using latest trends such as notifications in mobility services, several data analytics services, embracing open source technologies and empowering automation with help of Industrial IoT capabilities.

These significant investments in the technology realm of e-commerce business and the growing number of internet users across the world with the amount of transactional impact, the growth and revenue in e-commerce will inexorably soar in the coming years.

Keeping abreast with all these advancements in technology and innovation, we at e-Zest have given paramount attention to providing personalized cloud-based e-commerce solutions along with many other avant-garde technologies including IoT, Artificial Intelligence, Big Data and Predictive Analytics to help enterprises in taking their businesses closer to every consumer.

Should you choose an on-premise or cloud e-commerce platform? Read our next blog where we will talk about four keys to success in e-commerce business.