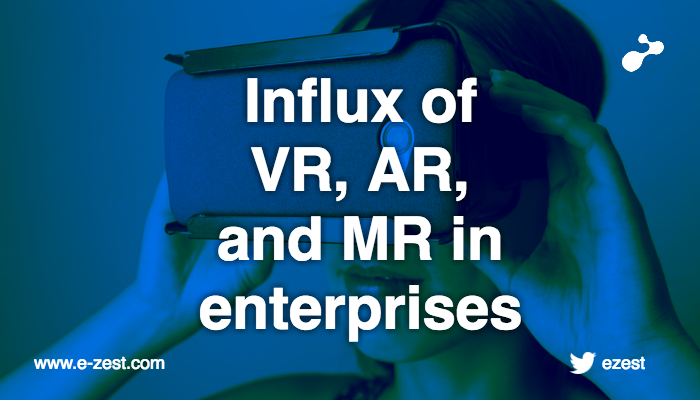 Virtual reality (VR), Augmented Reality (AR) and Mixed Reality (MR) are coming to the workplace sooner than you think. Are you prepared?

It is no more a speculation that enterprises are investing big bucks in these technologies as these technologies hold a lot of promise for businesses. Companies typically deploy these technologies for specific use cases or to solve particular business problem, it's all about improving performance and creating efficiencies.
If you have AR capability integrated within your operation systems, you could see the work order, see the process, even see any potential risks or problem areas - there are all sorts of opportunities to put the data into the vision that makes it so much faster and easier to do your work.

These technologies are creating a lot of opportunities as well as a lot of potential challenges for IT departments to think how to deal with networking, security and data retrieval. Like anything else, when you adopt a new technology, it does put a strain on your infrastructure. But this can be addressed by uplifting your infrastructure. Much of the improvements need to be made to old legacy systems to make these types of advanced technologies function the way they're supposed to.

With so much of it still nascent and untested, security is among the top concerns for enterprises especially with the addition of new devices remotely sharing data wirelessly. Rather than being vulnerable, it's better to rethink the way they're going to be used for and what they're looking at.
The deployments may seem a long way, but it won't be too long before most enterprises will need to be ready. It is estimated that enterprise use of AR technology - (business-to-business AR) is two or three years ahead of the consumer side (consumer-to-consumer AR).

AR will go mainstream specially around some specific fields like design, construction, manufacturing, healthcare, education, logistics, warehouse, repairs and maintenance.

What steps should enterprises take today to be ready for these technologies tomorrow? These will be a good place to start:


Choose vendors with right expertise
Get help from the experts
Train your staff on these technologies
Prepare IT department for the apps and devices based on these technologies
Begin a pilot project
Whether you tie up with partners, start talking to integrators, set up your own innovation lab, recruit staff with the right expertise - or all of the above - it's not too late to get started.