Startups are all about hope, bringing innovation to the forefront or in other words putting disruptive ideas into practice, by one or a few individuals. It is a dream for the individual and team associated with it to bring it into reality.
There are a lot of "ifs" and "buts" in this zealous journey. In the lifecycle of any organization, especially at the start-up phase, a dip called "Death Valley" occurs. This is a period of time when a start-up receives initial funding to when it starts generating actual revenues. Research shows that an organization, which successfully steers through the tough times created by this 'Death Valley", have better chances to survive longer.
I happened to visit Failory, a virtual cemetery for failed start-ups (https://www.failory.com/cemetery) and was surprised as well as saddened to see many startups despite having great ideas to start with, are "Resting In Peace".
Out of curiosity I went through a few examples mentioned on this website and thought of filtering out the reasons for the failures. When I applied that filter, I could see a number of causes except one, which made me think.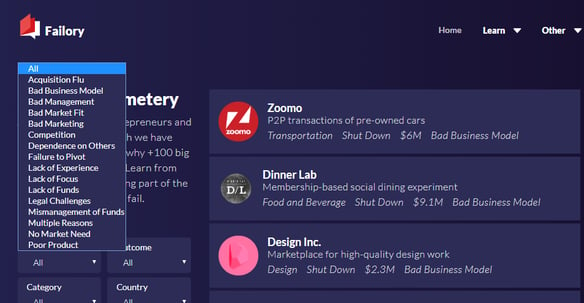 If you see the above snapshot you can see all those causes, which are extremely valid and have put to rest the most promising startups at that time. Being associated with many organizations as a consultant and involved with a few startups in their growth and improving profitability, I am mused to find out that not a single cause to fail is the inability to build systems and processes in the organization. These systems and processes not only help to achieve success but repeat it on a consistent basis. In my opinion, the difference between "successful" and "not so successful" organizations can be, one of the causes mentioned above and/or absence of systems and processes in the organization to provide directions on "How work is done?" to the employees.
How can processes help startups?
The first activity for any startup is to make its idea work. This starts on the basis of feasibility analysis that is performed by the founders. Once the product is ready then the organization needs to be built around this idea. System and processes are helpful in laying bricks for the future successful business.
Alexander Osterwalder and Yves Pigneur have written a book on Business Model Generation, which helps to generate the context of the organization. In my opinion, the context of the organization is the most important step and action for any startup to begin their activities. Processes need to be built around those nine business model building blocks explained in the book. (https://www.strategyzer.com/canvas/business-model-canvas)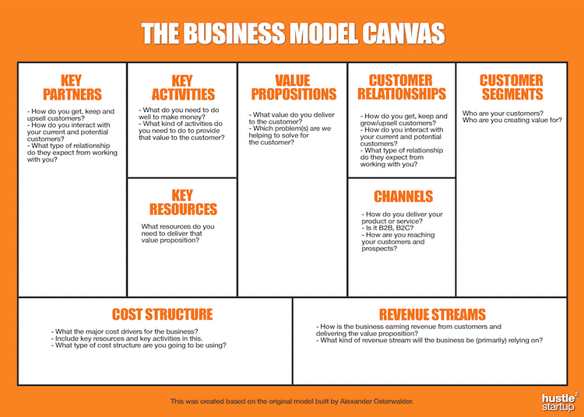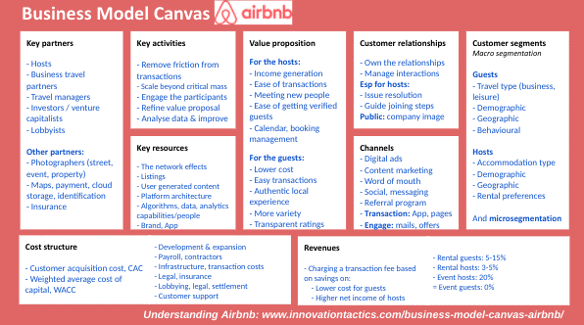 Next step, is to define value chain processes for the organization. These are called primary processes, which run from customer requirements to delivery. All these processes ensure the repeatability of the activities that are performed in the organization. Also, processes which lubricate this delivery engine are identified as enabling processes. We call this cluster of boxes as 'Global Process" of the organization. This is nothing but a big picture (aerial view) of the organization, which is constantly and consistently delivering value to the end customers. One example of a global flow chart is as follows: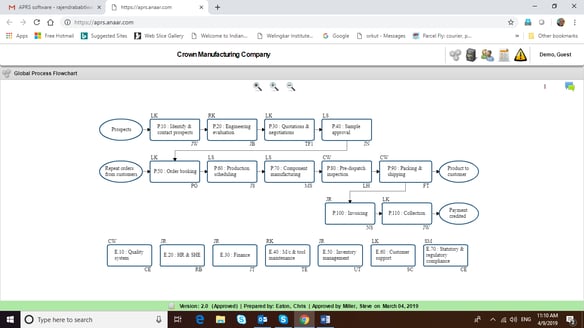 source: www.anaar.com
The job of the management in any organization is to setup systems and processes for people to follow. They have to involve relevant process stakeholders to make it happen. All these process boxes expressed above can be expanded to macro and micro level processes to bring in additional clarity on how the work is done. This becomes a ready reckoner or guide to refer, for people working in the organization.
Startups already have disruptive ideas waiting to be converted into business models. All they need is the help to develop a sustainable business model. Once these systems are built for an organization and they are reviewed at a regular frequency for meeting expectations and their fitness to changing business context, business starts growing.
Startups often start with a few people having tremendous ownership for the idea and business model, however, once they grow, a greater number of people join them not necessarily having the same ownership mindset. Clear definitions of processes, expectations from these processes and frequent monitoring and review will certainly help startups to scale to new levels in the time to come. Most important qualities required from the founders of a startup are "Desire to change" and "Commitment to follow through". If followed sincerely, a number of startups in the "cemetery of startups" will come down drastically.