Last week we concluded #HackathonPune 2017- second edition of national hackathon conducted by e-Zest Pune and Fresco Capital.



The event theme revolved around "digital for better future".

The event was sponsored by Laudato Si' Challenge, Microsoft India and supported by TiE Pune, POCC, MCCIA & PUG as partners.

The event started with lamp lighting - an Indian tradition that symbolises light as freedom from darkness and symbolises wisdom and knowledge.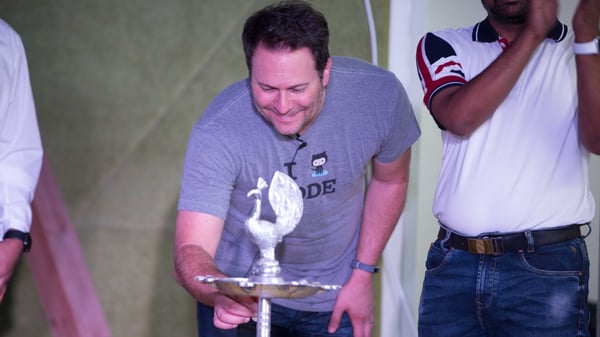 Stephen Forte of Fresco, who travelled 27 hours for 24-hour hackathon from Silicon Valley, started with his note on Capitalism 2.0. Services and products oriented towards humanity with for profit sense & to make them workable was the primary idea of the talk. It was perhaps referred to as compassionate capitalism in Indian business realm. The focus hence was on developing an idea in the areas of easing urban life, saving energy and water, efficiency of agriculture, human potential etc.

Microsoft offered Azure passes for all the teams to use its cloud services and features while building the concepts. We also planned the round the clock judgement process, which meant the senior members of e-Zest burnt mid-night oil, met each team several times to track their progress, understood the thought process & direction and even mentored them technically.

Every couple of hours, teams that did well till then were awarded VR Headsets sent to us by Microsoft Azure team.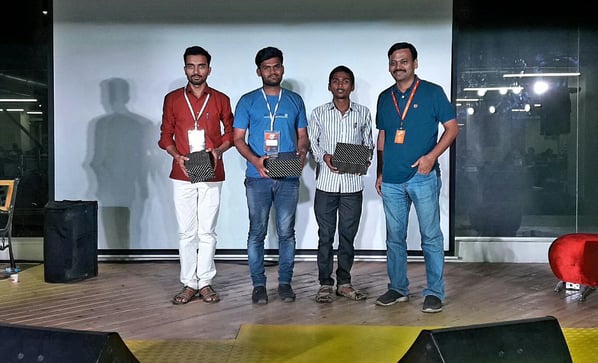 Some notable ideas that took a greater shape were:


Knowing availability of blood of specific group in blood bank near to you using simple feature phone, IVR and text service
Updating concerned agencies of an event such as change of address, birth or death once to increase
Efficiency of municipal and public services
Talking cars to connect real time for proximity understanding and avoiding accidents
Sharing rides and pooling to avoid traffic congestions
Water management for farms and households
Most projects notably included machine learning, mobile and hardware aspects too- meaning ideas in IoT/Machine learning area are reality.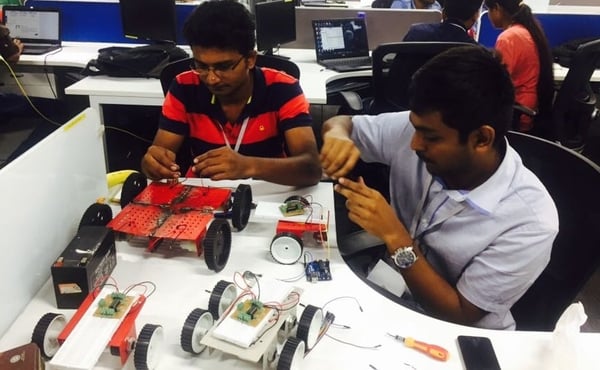 Some of the key numbers of the event were:

Registrations: 100+ teams
Qualified ideas: 99
Attendees and participants: Over 400
Total coding hours: 26

That was not all. After over 9 hours of coding, we brought in Pune based indo-fusion band that consisted of artists of international fame. As Stephen mentioned in his blog, we suddenly changed into a night club from code factory.

Close to mid night, we invited Jaywant Utpat- Indian Rhythm Specialist, tabla player and innovator who has introduced a new paradigm of electronic percussion to the Indian rhythm. Jaywant demonstrated JAYSONIK - a version of hand sonic and told his story to coders.

The theme of #HackathonPune aligned well with digital India movement. We had amazing visitor - Satish Pradhan, Independent Director of National Payments Corporation of India who went straight to floor and interacted with participants.

"It was indeed enjoyable and gave enthusiasm and hope for the digital future of our society. Creating a disruptive and positive, inclusive and accessible set of options for the benefit of citizens is indeed a great outcome to endeavour towards"- Satish Pradhan.

e-Zest had also invited technology leaders, Microsoft MVPs and CIOs/CTOs to share their ideas and industry view on emerging technologies. This came about grilling session as well as interactive for participants. The key outcome was all about application of technology and not about technology advancement alone.

The judges came out with top 10 list and made them present their ideas to larger audience before announcing the winners.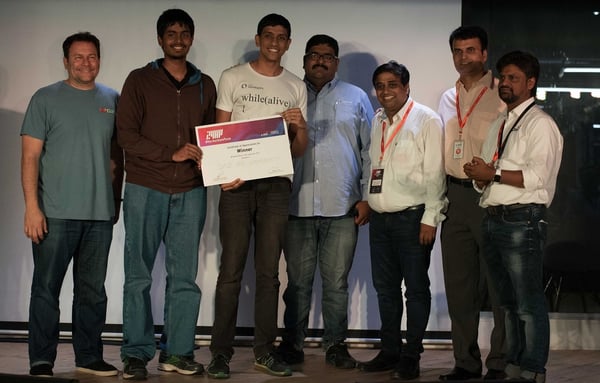 Overall, it was a fantastic and fulfilling experience that met the objectives of hackathon and offered personal satisfaction as well.