Modern agriculture has long been technology-driven. However, explosive population growth and relatively very less new land coming under cultivation will aggravate the global food shortage. Various reports suggest a need for a sustainable increase in food production by 2050. This means efficiency across the entire value chain and precise use of all resources.
It's estimated that by the year 2050, about a 70% increase in agriculture produce is required to feed an additional 2 billion global population. We are losing 100000 Km2 arable lands each year to manmade and natural events. To ensure the population is nourished, innovations and commoditization in data-driven efficient agriculture are needs of the day.
Data plays an important role in agriculture. With the advent of IoT systems, satellite systems, edge becoming intelligent and prediction technology becoming cheaper, agriculturists and agriculture technologists are finding more uses cases of AI/ML.
One of the most promising approaches to solve this global issue is data-driven agriculture. Most existing solutions are too expensive to address this challenge. There is a high need for a low-cost end-to-end system for data-driven agriculture. Below are some innovative solutions to the problem:

Microsoft FarmBeats is Microsoft's research initiative in the field of agriculture and provides an end-to-end IoT platform for agriculture. It puts AI and machine learning to offer low-cost data-driven farming solutions.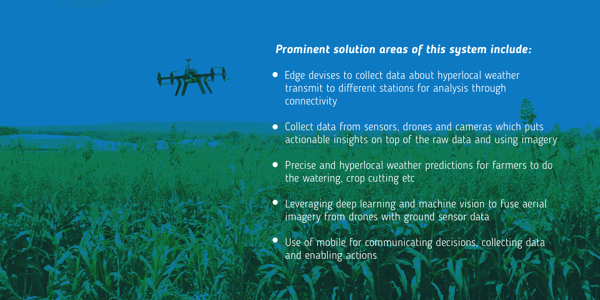 Although technology is present, its adoption is limited due to many challenges like lack of power or quality internet connectivity, and technology awareness. Traditionally, many in agriculture were solely dependent on historical data of soil/land, geography and weather forecasts which were in completely unstructured and scattered format. In some areas of agriculture, the digital innovation's presence was minimal until the last decade.
But, this is changing with growing e-commerce and mobility. People have started embracing new cloud and AI technologies. They are getting benefited by it to a large extent. Today, the way we look at Artificial Intelligence (AI) and Machine Learning (ML) is completely redefined with the new age methodologies and devices interacting with Cloud Services.
Some of the areas where I see innovators using AI, ML and IoT especially in farming are:
Best crops to grow, predictions on weather/rains
Recognize crop diseases
Use of minimal resources such as water and managing soil quality
Responding to emergencies
Besides with the usage of AI and ML in core farming, people have started to explore how they can use the same in entire farming chain/lifecycle and in the areas like food processing, study of animals used in farming, impact of pollution and weather changes on soil moisture and crop yields, identifying various crop/plant diseases, supply chain of farming goods, notifications and different types of predictions.
Here is the high-level diagram showing how different parts and scenarios of agriculture ecosystem can leverage cloud and AI services.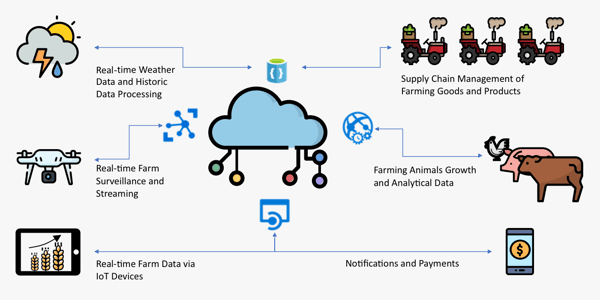 Technology expertise at e-Zest
e-Zest's award-winning Product Engineering team (adjudged as emerging player by Zinnov Zones in its recent study on the global rankings of Service Providers in the ER&D segment for 2018 for Enterprise Software) has been engaged with agriculture ISVs globally and working on multiple areas such as product modernization, cloud-centric architecture, implementation and management. It is helping users (farmers and other businesses) in predicting rains, scheduling watering, controlling soil moisture and other parameters using right data, responding to emergencies and most importantly achieving a lot of it through simple mobile interface.
Write to me and I would like to connect, listen and share.