In any organization regardless of small scale or large scale, collaboration is a key aspect of its growth. Industry leaders always look for collaboration platforms where people from various departments can work together, exchange information, which will save their time and boost productivity.
Microsoft SharePoint platform provides the capability to develop intranet portal comprising all the required needs of employee collaboration. Following are some of the key reasons why intranet portals are not used so frequently:


Poor UI that isn't intuitive
Unable to get employee feedback on time
Unable to adapt to changes
Unorganized content and difficult to manage
Knowing this fact, Microsoft persistently works towards enhancing the SharePoint user experience. In this article, we will be talking about the key difference between classic and modern SharePoint intranet experience.

Sites and sub site structure

In a classic SharePoint architecture, we typically follow the hierarchy driven structure where we have one root site collection and then we are creating sub-sites under that root site. This structure then helps us define the site navigation, configuring user permissions and overall site design. The main key challenge we have in this structure is, once it is defined, it is difficult to then manage and maintain.

In the modern SharePoint experience, each site is a collection and all can be associated with a hub site, which is a flat structure of sites that share navigation, branding, and other elements. This kind of structure is far more agile and adaptive to the changing needs of your organization.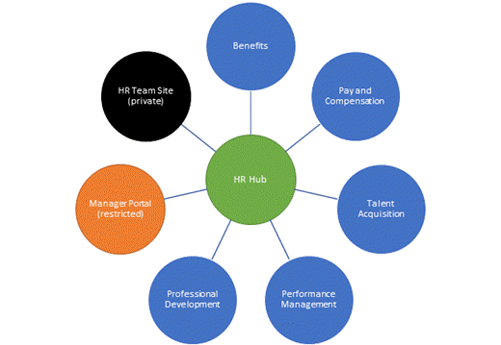 Navigation



Site navigation experience is one of the key factors that is important for the overall success of your intranet portal. Simple and easy to use site navigation help user to find relative information quickly. This helps them to take the decision quickly or help to solve a problem faster. Classic SharePoint provides you site and sub site's hierarchy driven navigation which is not in modern SharePoint. However, the hub sites provide a great way to achieve the cross-site navigation features. In a nutshell, modern SharePoint addresses both the key navigation fundamentals which are:


Organizing and labelling
Usability and findability

Branding

Branding the site in SharePoint classic is little challenging due to the limited pre-configured site themes. Customizing these themes to match the organization specific theme is time-consuming. In addition, there is a deviation in user experience on different devices.
In the modern SharePoint online experience, you can easily change the look and feel of your site to match your company or organizational brand. You can personalize the logo, colors, and navigation – often without writing a single line of code. Branding can be applied at the site level, to a group of sites, or to all sites within your organization.

Below is a summary of the differences between branding a site in the classic experience vs. branding in the modern SharePoint Online experience.
| | |
| --- | --- |
| Classic experience | Modern experience |
| Unresponsive, out-of-box themes that you can customize | Responsive themes that look great on any device and can be customized to match your brand |
| Use custom master pages and CSS that are ignored in the modern experience | Use the SharePoint Framework to add header and footer, customize theme colours, etc. |

Search

Search is another key part of any site. A well-defined and configured search provides specific information to the user quickly.

Modern search experience in more focused on providing a personalized experience, for e.g., finding the right document version, getting back to the presentation from where you left. An intelligent search box will keep suggesting you as you go on typing. Showing most relevant search result items at the top. Modern search experience lets you explore results without leaving search. You can, for example, browse through a presentation directly in the search results page and quickly assess if it's the right result.

Permission and sharing

SharePoint classic experience comes with three primary groups of permission that could be utilized to provide access to various components of SharePoint. With modern SharePoint experiences, team sites and communication sites may also have unique, granular permissions, although each site template provides different options for both permissions as well as sharing.

Key points to consider regarding permissions and sharing in modern SharePoint sites include:


Modern SharePoint permission grouping
Providing a user direct access to a site vs adding a user to a group
Sharing permissions across sites
Permission differentiation between Team sites and Communication sites
External sharing and sharing options