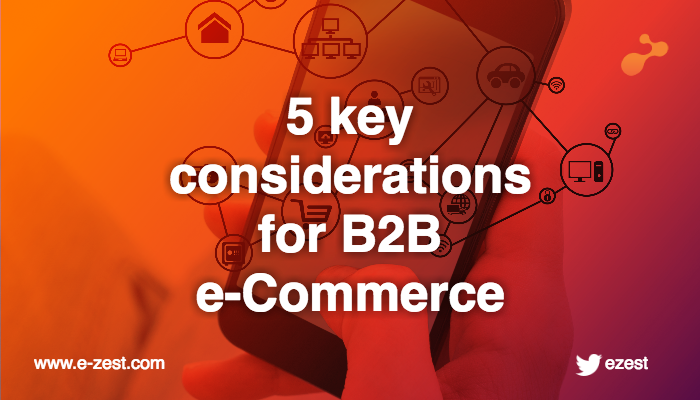 Digital commerce is becoming the key initiative for enterprise digital transformation. Cloud-first strategies, personalized user experiences, support for multi-tier distribution selling, advanced CPQ (configure, price, quote) systems and Omni-channel support are driving stupendous growth in B2B commerce. The increased need of providing a more comprehensive, one-stop-shop experience with a faster time to market is going to push the B2B e-Commerce market to hit $1.1T by 2019 (according to this Forrester report).

Enterprises looking for deriving maximum value from B2B commerce initiatives should keep track of following trends.


Customer experience for B2B platforms can be upgraded by drawing a page from the success stories of B2C. Cloud-based B2B e-Commerce platforms have the need and latent ability to deliver online experiences rivalling B2C across every device and channel, yet a few are doing the work to achieve those levels of customer experience. Customer experience is a factor of importance to such magnitude that according to Gartner, by 2018, 70% of e-Commerce will move from B2C and B2B models to models that focus on the individual customer experience.

B2B buying can be more complex than B2C in terms of the product and process. The experience design in this case becomes even more important to not confound the customers, but rather, delight them. Experience is somewhat of a mandate today and B2B platforms failing to meet the standards will lose customers and business to better designed systems.


Next generation CPQ solutions are also needed as legacy solutions were not built with e-Commerce and digital in mind. B2B e-Commerce platforms will benefit from investment and/or re-investment in modern CPQ (Configure Price Quote) solutions. In the B2B arena, the offerings can often get complex which need to be served along with price fluctuations, customer-variant pricings all subject to multiple business rules and workflows. The objective of displaying the most accurate quote to the customer and 'guiding' them to accepting that quote is achieved through modern CPQ solutions. By automatically displaying the best quote, factoring in all the business rules, discounts and volumetric considerations, CPQs help the customer make a faster decision. Some of these solutions also help in guided selling, which allows the customer to compare between different features and prices to arrive at the best decision. Considering a CPQ system could be a game changer for a B2B platform.


The modern buyer consumes content from a number of devices and platforms. He expects the information presented to be consistent across those platforms. The concepts of doing different things at work and at home are getting merged. Nearly half of B2B buyers refer to the same app for doing both their work related and personal purchases. The report also says that sixty-eight percent of buyers expect the said information consistency. Omni-channel also translates to the ways of interaction with the manufacturers and distributors. This will help have better visibility to inventory and more transparency to order tracking. Integrating digital abilities in each channel of the business is important to achieve Omni-channel capabilities.
B2B customers are not going to adjust with the unwanted complexity of traditional procurement when there are better experiences to choose from. Hence, there is an opportunity to design solutions that radically change how the customer engages. This engagement is achieved through personalization that works on the customer details like the company he works for, the position, the industry and the location. The experience can be tailored around providing a custom catalog or creating a specific volume-based pricing, implementing specific discounts and bulk order offers, display content around their industry and also providing an invoice that would work better with the customer's accounts team. Tailoring also involves mimicking the customer's habits on the app and deciding the best course of presenting content to him.


In the journey to modernization, a challenge that faces B2B systems is the presence of disparate databases and multiple user interfaces.This creates technical debt over a period of time and also hampers the experience. The solution here, is to invest in next generation Content Management Systems (CMSs) and Product Information Management(PIM) systems. These systems will store data in easier-to-retrieve methods. This means that the data can be pulled out and pushed in more quickly leading to better response times throughout the application. Some enterprises are also using micro-services architectures with headless CMS to achieve better data availability and completely decoupled UI and backend.
There are a multitude of approaches to make a B2B e-Commerce platform more effective. Each approach has its own challenges and associated costs.

We can do trade-off analysis to find out what strategy your business might need. Talk to our digital commerce consulting services team (http://www.e-zest.com/digital-commerce-consulting-services) for your specific needs.