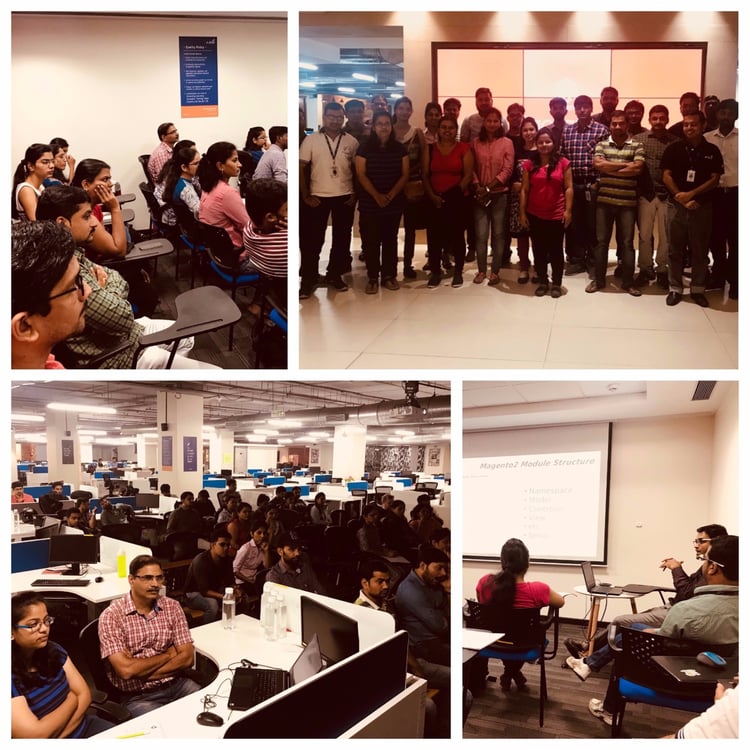 e-commerce is a growing business and has a huge impact on the whole IT infrastructure of a company. Magento 2 meetup was held to discuss this, and more about e-commerce with the main focus on Magento 2 that has been named a leader by Gartner in the 2017 Magic Quadrant for Digital Commerce.
Our passion for the Magento platform encouraged us to have this meetup which is the first Magento meetup in Pune and it's become quite popular with the Pune Magento community.
Why Magento meetup!
The Magento 2 meetup is fundamentally aimed at developers building or aspiring to build e-commerce portals and applications as well as digital commerce practitioners. The aim is to provide a common platform for participants to discuss their experiences and gain learning from each other. The discussion was also aimed at finding solutions to some of the pressing problems developers face while learning new things about Magento.
We wanted to organize this meetup to share knowledge, ideas, discussions, and great presentations with all who are passionate about Magento. A meetup seemed a logical thing to try to bring together like-minded members to share stories and to provide an opportunity to learn from each other. The meetup was about e-commerce, development best practices, performance optimization, SEO strategies and life as a Magento professional in general.
The event was filled with highly informative and interactive sessions giving insights on the latest updates and features on the technology; sharing of thoughts on various technical aspects and understanding different views.
The event saw more than 30 Magento enthusiasts, developers, and thought leaders who participated and shared their knowledge on Magento platform. The first meetup revolved around Magento 2 starting from platform overview, things to know before running Magento to writing better code for Magento 2
e-Zest CTO, Ashish Gupta, spoke to the participants and shared his delight about e-Zest hosting Magento 2 meetup that has established a common platform for all Magento practitioners to come together and for e-Zest being the catalyst for the first ever Magento meetup in Pune.
This was the first meetup. There's a complete series planned for the growing members of Magento community in Pune.