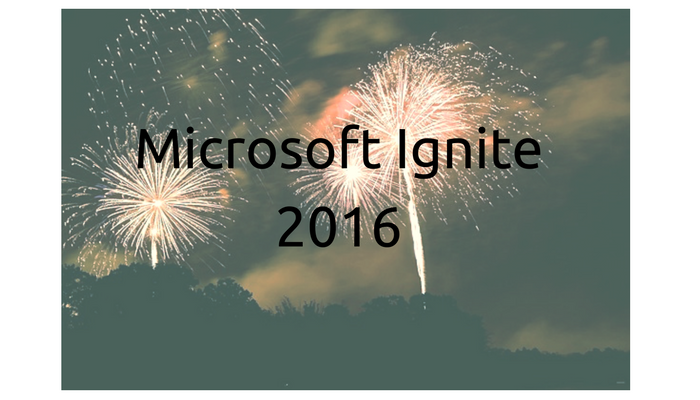 When we talk about tech conferences, Microsoft Ignite always steals away the spotlight. This time the Ignite 2016 unveiled a lot of new things related to security, internet of things, mobility and much more. In addition, there were 140 sessions conducted for SharePoint where the SharePoint team and Jeff Teper were very open about what's coming in SharePoint.

Below are few highlights on what Microsoft has announced for SharePoint in Ignite 2016.
Collaborative Groups and Team Sites – Microsoft announced that there will be no notion such as Group vs Team Sites. They mentioned that one will be able to create a site using SharePoint homepage and again an Office 365 group will be created along with SharePoint team site. However, creating a group can get you a team site and creating a team site can get you group, isn't it great!


Sync capabilities for SharePoint Online document libraries - The sync feature will be Windows and Mac friendly and will also enable us to sync SharePoint Online document libraries with OneDrive folders. To view the complete syncing activity an "activity center" has been added to the OneDrive sync client.


Enhanced SharePoint mobile application - The new SharePoint mobile app will provide notifications on your iOS and Android when an OneDrive file is shared. Using OneDrive app one can access SharePoint Online files on Android. Furthermore, an ability to track and discover number of file viewers in OneDrive for iOS.


Feature Pack 1 for SharePoint Server 2016 – The Feature Pack 1 in SharePoint will bring in several enhancements which will include:
MinRole enhancements are made in order to support small environments
Tracking of administrative activities performed in Central Administration and PowerShell.
Modern UI/UX will be coming to on-premise within OneDrive, although it will require Software Assurance.
SharePoint app launcher will have custom tiles.
Unified auditing and taxonomy for on-premise and Office 365
OneDrive API 2.0 so it is centralized across all Office 365 and on-premise
During Ignite apart from SharePoint and Office 365 Microsoft announced other features like running Linux in Azure and cross platform management. Overall through Ignite, Microsoft unveiled their roadmap of the future accomplishments.