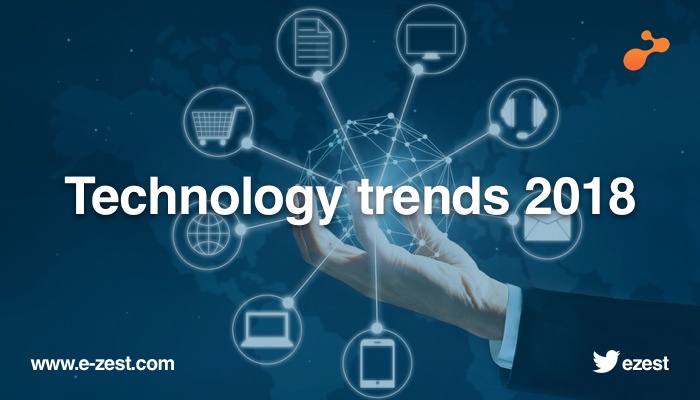 As we enter the last quarter of 2017, we can assertively say, that it's been an eventful year in digital transformation. And while we come closer to the year end, we can get a sense of what's ahead in the game of digital transformation. Of course, all this excluding the unexpected disruptions.
Here are the top 10 strategic technology trends that will create a foundation for the next generation of digital business models and ecosystems, driving the significant potential for disruption and digital initiatives through 2025.
1. AI goes from latentto mainstream
It's a no-brainer to know that AI may soon begin to feel like 'nothing new' with everyone from young to old using Siri and customer service chatbots. On the business side, AI and intelligent things will sharpen the ability to enhance decision making, reinvent business models and ecosystems, and remake the customer experience.
A recent Gartner survey showed that 59% of organizations are still gathering information to build their AI strategies, while the remainder has already made progress in piloting or adopting AI solutions making it clear that interest is growing.
The likes of IBM Watson, Salesforce Einstein, SAP Leonardo and other major companies launching embedded AI right into their platforms is a sign of what is in store.
2. Blockchain finds its way forward
Blockchain is a shared and decentralized ledger that allows parties to exchange commerce transactions by being independent of individual applications. The technology holds many potential applications in sectors like finance, government, supply chain and more. However, many blockchain technologies are latent and largely unregulated. Before you think of taking a leap, it's better to ensure your team has the required skills to apply it right.
According to the Gartner predictions study, blockchain-based cryptocurrencies will represent more than half of worldwide blockchain global business value-add by 2023.
3. Digital commerce becomes a must
2018 will demand many companies to realize Digital Commerce is not a casual thing and it's imperative in today's business market. Disruption will continue to be an increasingly common occurrence in the next few years and companies unable or unprepared for these changes will fast fail to the bottom of the pack.
Early adopter brands that 'self-disrupt' by redesigning their websites to support visual and voice search will increase digital commerce revenue. As voice-based search queries grow as a search type, visual and voice search will accelerate mobile browser and mobile app-based transactions on many e-commerce sites.
The top digital giants like Apple, Google, Microsoft and Facebook's investments in AI and machine learning is evident in how quickly visual and voice-search technologies will accelerate in the next few years.
Examples of self-disruption include AWS Lambda versus traditional cloud virtual machines, Alexa versus screen-based e-commerce, and Apple Face ID versus Touch ID.
4. The IoT will get us to the edge
IoT keeps popping up repeatedly everywhere, making its way to the top with billions of 'Things' on the internet today. However, it isn't so much about the things, but rather what we do with these things once they are connected and supplying us data. It isn't just about the IoT, these three key trends are what makes it IoT irresistible — the analytics, edge computing, and 5G processing are all driven by the IoT at their core.
IDC predicts that up to 40% of all computing will happen at the edge in a couple of years. By 2020, IoT technology will be in almost all electronics for new product designs. Gartner predicts IoT-enabled products with smartphone activation will emerge at the beginning of 2019.
5. Augmented reality (AR), virtual reality (VR) will be game changers
AR and VR combined with conversational platforms will emerge giving rise to the battles for smartphone-based AR and MR in 2018 with a spectrum that includes head-mounted displays (HMD) for AR or VR, as well as the smartphone- and tablet-based AR.
Given the omnipresence of mobile devices, Apple's release of ARkit and iPhone X, Google's Tango and ARCore, and the availability of cross-platform AR software development kits such as Wikitude, smartphone-based AR and MR will continue to grow exponentially in 2018.
6. Conversational Platforms
Conversational platforms will drive a paradigm shift in which the subject and object shifts from user to computer. These systems are capable of simple or more complicated interactions. These platforms will continue to evolve to even more complex actions. The only challenge that conversational platforms face is that users must communicate in a highly structured way, and this is often a tough and unpleasant experience. A primary differentiator of these platforms will be the robustness of the conversational models and the API and models used to access, invoke and orchestrate third-party services to deliver complex outcomes.
7. Bots will attract more investments than traditional mobile app development
Today, chatbots are the face of AI and as user attention shifts from individual apps on mobile devices to post-app technologies such as bots and chatbots, the impact will be seen in most areas where there is communication between humans. Bots have the ability to transform the way apps will be built and the potential to change the way the users interact with technology. The appropriate use of bots will also increase employee or customer engagement as they can quickly automate tasks to free up the workforce for more routine work when deployed as chatbots or virtual assistants.
8. Immersive Experience
As Augmented reality (AR), Virtual Reality (VR) and mixed reality change the way people interact with the digital world, vendors will compete to deliver this as a business model. Mixed reality will emerge as an immersive experience of choice where users interact with digital and real-world objects with a presence in physical worlds. Combine this with conversational platforms, and a fundamental shift in the user experience will emerge to an invisible and immersive experience giving rise to the smartphone-based AR and MR.
9. Cloud to the Edge
Edge computing in which information processing, content collection, and delivery are placed closer to the sources (that involves user/things) or edge of the networking that favors distributed models. Enterprises, particularly for those with significant IoT elements should begin using edge design patterns in their infrastructure architectures. A good starting point could be using edge-specific networking capabilities.
While it's common to assume that cloud and edge computing are competing approaches, it's a fundamental mis-judging of the concepts. In the cloud, technology services are delivered using internet technologies, but it does not dictate centralized or decentralized delivering services. When implemented together with edge, the cloud is used to create the service-oriented model and edge computing offers a delivery style that allows for executions of disconnected aspects of cloud service.
10. Continuous Adaptive Risk and Trust
Digital businesses create a complex and demanding security environment. The use of increasingly sophisticated tools exposes the threat potential. Continuous adaptive risk and trust assessment (CARTA) allows for real-time, risk and trust-based decision making with adaptive responses to security-enabled digital business. Traditional security techniques using ownership and control will not work in the digital world. This requires embracing people-centric security and empowering developers to take responsibility for security measures like integrating security into your DevOps efforts to deliver a continuous "DevSecOps" process to make CARTA a reality.