Since Magento acquired the technology behind the BlueFoot CMS and Page Builder module it has made the BlueFoot CMS a core part of the Magento platform to empower merchants to have a greater control and creativity over their digital experiences.

Working alongside merchants, retailers, agencies, and developers, BlueFoot has been created with one aim - empower Magento users to create fantastic content quickly and easily without any dependency on other platforms or systems.

BlueFoot's powerful set of tools is designed to help its users create and manage content on the Magento store, everything from product descriptions to blogs.

BlueFoot is a Magento 2 Plugin. It enables easy content editing, with drag and drop functionality and flexible layouts. This makes it extremely easy for anyone to create a page on Magento without the need to know Magento in terms of styling, layouts, blocks, widgets and so on.

BlueFoot for MAGENTO 2 gives you the power to design and create web pages the way you want them! This will help you create and manage content on your Magento store including:

Drag and Drop functionality: This functionality can be used for headers, images, products and more is user-friendly and intuitive, enables retailers to create more complex designs and functionality without the need for technical expertise.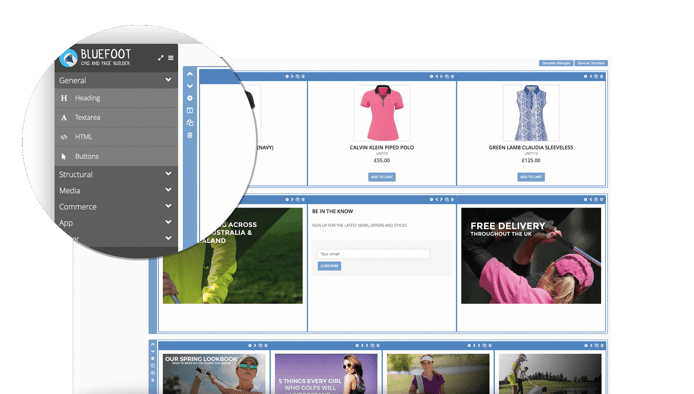 Static block integration: This provides you a seamless integration of static blocks into your content ensuring that areas of the page such as categories can be turned into any design you like.

Product-content integration: Using this functionality, you can add products to blog posts or pages. It is simple to drag products or groups of products into your standard content to help merchandise your pages.

Simplified third-party content integration: This functionality allows you to complement your pages with third-party integrations such as YouTube videos, Google Maps and more to create content-rich pages, categories, and posts.

Search engine friendly: BlueFoot comes with the most optimized SEO options you would require for your site optimization like - title tags, alt tags, metadata and XML sitemap integration to ensure that your content created in BlueFoot is search friendly.

Open source code: Using this function, you can customize the BlueFoot code according to the needs of your webstore.

Support: Through support feature, BlueFoot aims to provide its customers and user base with the best possible support, offers email support and explicit user guides.

These are some of the alluring facts and highlights about BlueFoot CMS page builder for your Magento 2.