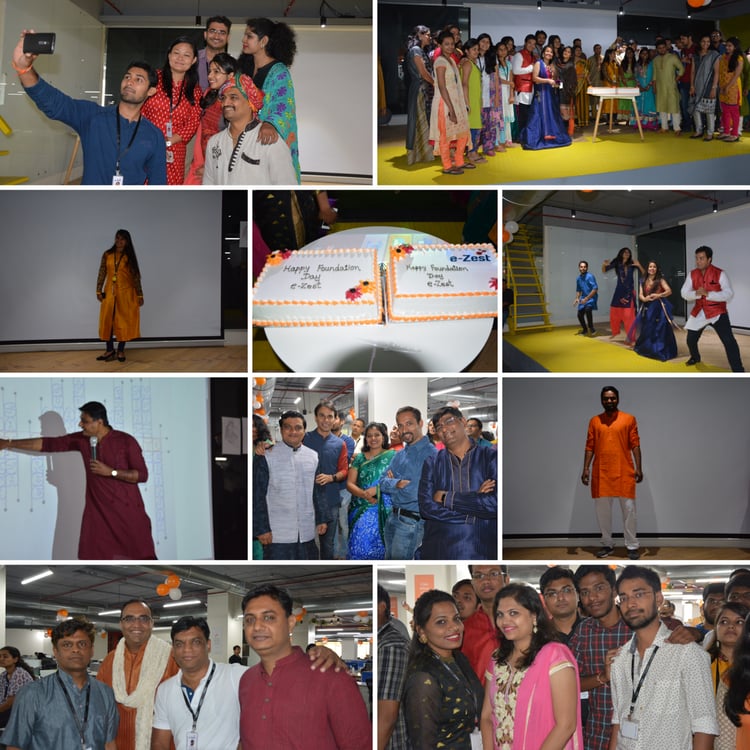 It was a feeling of nostalgia, of satisfaction and of hope that engulfed us as our hands cut through the cake that said, 'Happy Birthday e-Zest! We turn 17!' We indeed turned 17! 17 years of delivering high quality services and software solutions to happy customers around the globe. This, very proverbially, is only the beginning. Our dazzling celebrations marked the day as memorable and told us that there is still so much more to come.

We went back to our roots by showing off our best ethnic outfits on this day. The impressive palette of colors and style lent beauty to the occasion. The event was started off with an online quiz of quirky, trivia-laden questions about e-Zest. The winners were declared with much appreciation and applause. The journey of the people at e-Zest was summarized in a video that left many a veteran e-Zestians struck with nostalgia. Smiles were seen in the audience who fondly recollected the many moments that helped shape the company into what it is today. The event went continued with a stunning dance performance by a few e-Zestians, who had painstakingly practiced their dance moves to perfection, along with their busy deadlines. The delighted audience was then treated to a sizzling ramp walk by a few more e-Zestians, who had decided to spice up the occasion with the trendiest clothes and styles.

As the event came to a close, the party went into a frenzy of dancing at the beloved dance number, Zingat. There was not one stationary leg on the entire floor as e-Zestians danced their hearts out to celebrate their moments of joy and achievement. Tired dancers, ramp walkers, quizzers made short work of the cake that quickly found its way into the depths of their satisfied tummies. But while we did all that and amongst all the madness, each of us knew that we had turned a year older.

The year to come would be marked with greater possibilities of using cutting-edge technology. The year to come is going to bring some of the most exciting technological revolutions the world has ever seen. And in the year to come, our now 17-year old spirit is going to rise to the occasion and make more customers proud! A very happy birthday to us!