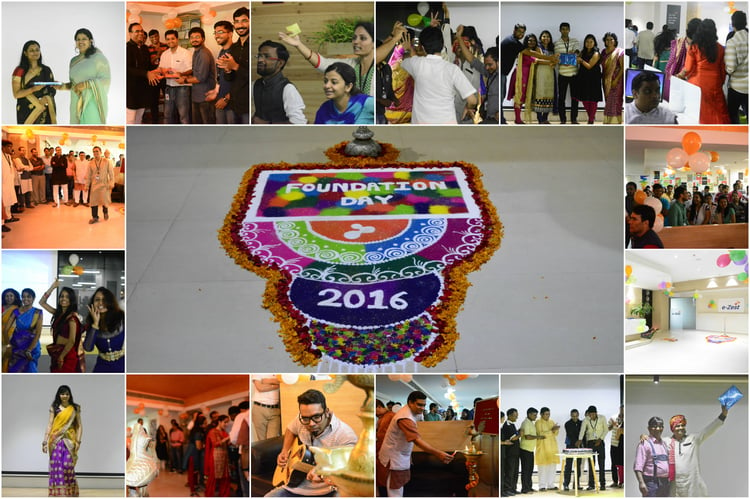 On the same day 16 years back, little did we know that our passion for technology driven solutions would take us through such a wonderful journey. On this foundation day, we are reminded of how e-Zest was formed 16 years ago and how far we have come. Started with humble beginnings, today we are a global IT Services Company driven by our passion in technology. Our 16 years trajectory has taken us through continuous transformation and innovation utilizing emerging technologies such as cloud, mobility, analytics and User Experience to help our clients solve particular business problems.
The much awaited event started with lighting a lamp and an opening speech by our leadership team. They congratulated each of them who were a catalyst for another successful year. Every member of e-Zest was eulogized for their exceptional `achievements from the past 16 years. e-Zest CEO and Founder Devendra Deshmukh took this opportunity to thank all stakeholders and clients for making e-Zest what it is today.
The surprise element was the flash mob performed by our group of gorgeous ladies which produced a joy among all e-Zestians. The event continued with our very popular treasure hunt. With seven teams to complete the hunt in 15 minutes, it was quite a nail biting and fun filled activity. Our winning team of treasure hunters made it in four and half minutes. To add to the high enthusiasm and energy levels, e-Zestians looked their best in their ethnic attire and the best dressed took home a winning memento.
The event wrapped up with cake cutting by winning teams and gofers, followed by the sumptuous evening snacks.