The Internet of things (IoT) will be pivotal in the future businesses and is already becoming an integral part of technological developments across industry verticals. Companies across the world are finding their way to be a part of this digital disruption either by investing/acquiring the start-ups or by collaborating with the technology leaders.
In brief, IoT is an intelligent network of embedded devices communicating and transferring the information with each other followed by analysing the collected data for actionable information leading to better decision making and customer engagement.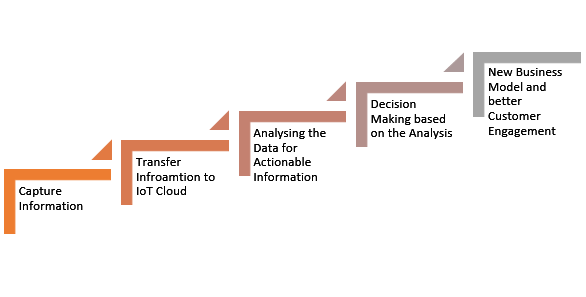 Like in many other verticals, IoT is expanding rapidly in automobile industry and transforming it by cutting costs, increasing productivity and providing better customer experience. From parts manufacturers to automakers, everyone is leveraging IoT to their benefits.

Some of the IoT applications coming up in the auto industry and more precisely in passenger vehicle segment which include apps integration, navigation tools, advanced hardware to allow users to connect to their cars via smartphones and so on. Besides these benefits to users, IoT can really prove to be constructive forautomakers. The valuable data generated from IOT devices can help automakers to monitor car performance, understand driving patterns and essentially cross sell and up sell relevant products and services to the customers.

Besides passenger vehicles, insurance companies are using IoT to monitor the habits and driving patterns of drivers, auto parts vendors are using IoT on the shop floor to improve the operational efficiency by reducing failure and downtime of the manufacturing equipments, logistics and supply chain management companies are using IoT for shipment tracking and fleet management. Briefly, we can say that IoT will transform the auto allied industries as well.

The IoT will become more and more inclusive in the auto industry offerings as the evolution in the connected and driverless vehicles is at the corner. Surely, IoT will transform not only auto industry but also the transportation and logistics industry as whole and this will pave new paths for software industry as software is the integral part of the IoT ecosystem. After all, in a nutshell, IoT is 90% software and 10% hardware.