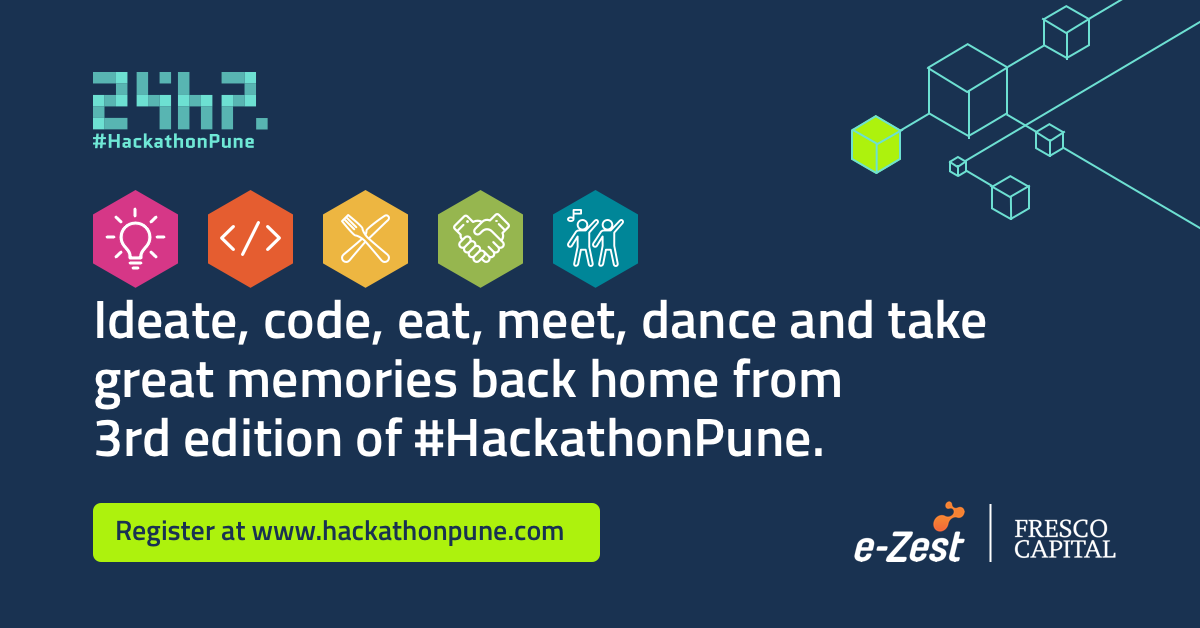 India's first pure-blockchain hackathon event

The third edition of #HackathonPune is set to take place in Pune on October 13. The event is being co-hosted by e-Zest and Fresco Capital in association with Microsoft. Since its inception in 2016, #HackathonPune is based on a different theme each year. This year, the theme chosen for the event is Blockchain for Good.

e-Zest is passionate about their venture into Blockchain, which is a futuristic technology with a myriad of uses. The event is a platform for techies and idea enthusiasts to explore the many applications of Blockchain technology.

The core objective of #HackathonPune is to offer a learning experience and help create better solutions with excellent ideas. The participants will have the opportunity to network, ideate, and challenge themselves through hands-on-learning in a tight time-capsule, which has in the past led to the surfacing of some very innovate ideas.

This event is open to programmers, students, and entrepreneurs. Participants will receive a brief introduction about blockchain, and SMEs will be available for consultation. There is no restriction on the technology or framework. The hacking will take place for 24-hours during which participants will attend a reception, a music gig, and some discussions.

"Blockchain is a relatively new entrant in the world of technology. Due to its virgin nature, there is a lot that can be explored. With #HackathonPune we are expecting a lot of new uses of Blockchain to surface, which will be in sync with solutions for real-world problems," says Devendra Deshmukh, CEO & Founder of e-Zest Solutions.

"It is a great privilege to partner with e-Zest Solutions on this important initiative", says Stephen Forte, Managing Partner of Fresco Capital. "#HackathonPune is a brilliant place to build a long-term community and collaborate with talented people of Indian-IT."

Fireside Chat is an important component of #HackathonPune. During the chat, CEOs, CIOs, thought leaders, and MVPs will engage in conversations about the latest developments in the world of business and technology. The session is scheduled for 13th October also at the Digital Innovation Center (DIC), Hinjewadi.

The Startup Pitch will witness entrepreneurs present their business canvas model in categories of B2B, B2C, or pure tech. Several VCs will be at hand to listen to and provide their critical feedback on the startups. Those interested in presenting should send in their application at: https://goo.gl/forms/UEKpFHzI53jtYYoP2
Hackathon projects will be judged in four categories: Hardware, Consumer, enterprise and others with prizes worth lacs to be claimed by the winning teams. #HackathonPune is an event, which gives a chance to team up for code, fun, meet like-minded people and learn more about blockchain. Considering the success they have had with their previous hackathons, e-Zest is expecting a strong turnout from developers and corporate of the tech community.

Aspiring teams can register their team here. For more details contact Mariam 9145371817.