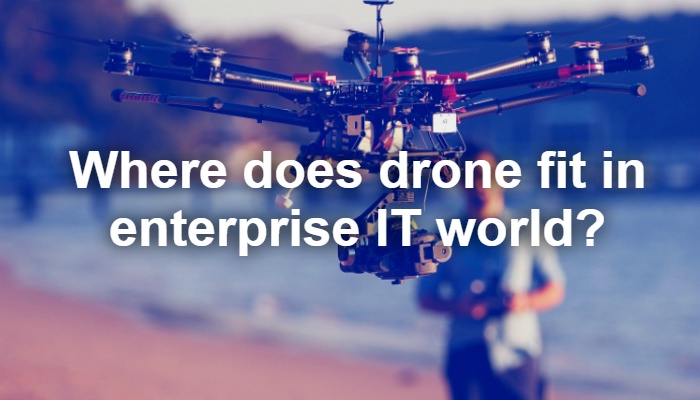 Man has always been fascinated by the skill of flying. That is why the advent of airplanes was celebrated with much applause. Less than a century forward, the unmanned aerial vehicle (UAV) or the drone provides impetus back to man who is technologically capable to control these machines from the ground.

Drones are not a very recent phenomenon. Nations have been experimenting, producing and using drones for more than a decade. Defense organizations have been using drones to accomplish tasks like reconnaissance, aerial photography, spying and locating targets and in combat sometimes. However, use of drone in the enterprise world has boomed recently. Recent market surveys predict that the global UAV-Drones market would be at USD 5.59 Billion between 2015 and 2020 at an estimated CAGR of 32.22%.

Where are drones used in enterprises?
In the world of enterprises and businesses, drone usage has been gaining momentum since a few years now. Consumer based organizations use the UAVs in permitted airspace in order to make express deliveries. Some of the current applications of drones in enterprises globally include surveying and auditing, power line monitoring, retail delivery, aerial photography and cinematography.

In countries like India, drones are expected to be widely used in agriculture for surveying crops, searching and herding livestock and animals etc.

What types of drones are in use?

There are three segments of UAVs based on their weight, capacity and flight endurance.
Entry-level or Small/micro drones: These drones have a flying range of up to 160 feet, and can fly at about 10 mph horizontally for up to 20 minutes on an extended battery, although drones in this category tend to run on a simple battery.

Prosumer or medium drones: These are used by consumers that prefer professional-quality equipment. They have a range of up to 3,000 feet, can fly at around 20 mph, and can remain airborne for up to 25 minutes. These can hold a camera and are mainly used by the enterprises for delivery or surveillance etc.

Enterprise or large drones: These are capable of transporting a payload weighing a few pounds and can be optimized to lift and carry up to 6 pounds or to remain airborne for an hour. They are mainly used for defense purposes by the defense organizations worldwide.

Good times ahead: The future

In the near future, growth of smart cities and the digitization that comes with it is expected to open a number of opportunities for the UAV market. Drones will play an important role in implementing the digitization plans and will contribute towards the implementation of IoT solutions in cities as well as industries. Drones will be crucial in the digitization of assets spread across geographies that will bring in the much needed authenticity and accountability in large industries such as infrastructure, mining and utilities.

Being able to control drones and even connecting them across systems via IoT will give the impetus to technologically-able organizations to go about exploring newer options and avenues for application of UAVs.

Conclusion

UAVs, as an enterprise application, have a lot of scope, bringing a lot of excitement across the industry. Being a collaboration of aeronautics and information technology, UAVs conjure extensive data that can then be analyzed and used by different organizations. The recent infrastructure development and an upsurge in the number of indigenous big data and analytics firms are sure to make the drone market dominate the enterprise world.