IT project management is often viewed as a circus of sorts. With project managers grappling with the triple constraints of time, scope and costs, projects often get mismanaged resulting in money and time leakages. However, there are some key guidelines to save a project to get into the red zone.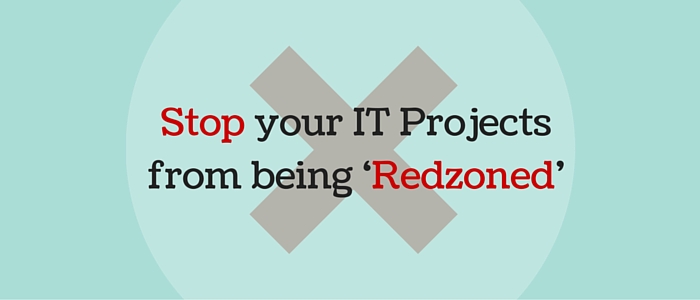 First, you have to understand key indicators of a 'Red' project in an IT context. They are:
Any project that is facing a challenge to meet its objectives or agreed parameters
Team is continuously missing set deadlines
Project has high impacting risks
Evaporating budgets
Obviously, your goal should be prevent a project from entering the red zone. Closely monitor the project objectives and risks to avoid this problem. My experience of managing and executing IT projects for around 15 years has taught me that each project teaches you different lessons.
I will now share with you some of the best practices to prevent solid projects from being 'redzoned'. These are guidelines which have worked for our valued clients to meet business objectives and for our own teams to deliver high quality projects within the recommended budget.
Some of the best practices are:
Make sure that your project has clearly defined milestones along with the acceptance criteria for each milestone. This has to be formally signed by the client.
Have a sign-off on business requirement/prototype during the initiation and planning stages.
Ensure that the project team has a clear cut understanding of business objectives.
Make sure that the right team member is assigned to the project. Continuously review skill requirements, competencies, flexibility, motivation and commitment. Make sure that each team member knows his roles and responsibilities.
Use the right tools for project execution, control and management.
Project schedule should not be aggressive or over-optimistic
Have a tight control on project scope management during execution
Have periodic communication with all stakeholders. Engage the clients throughout the process and demonstrate the progress to the client frequently.
In order to have a better grip on the project, I recommend the following actions:
Define project hygiene parameters for project life cycle stages. They should be reviewed bi-weekly or monthly depending on overall project duration.
Define hygiene parameters for project life cycle stages. Also, review it according to a set frequency. Some quick examples of hygiene parameters are –
Is source control used in the project?
Does team have a formal sign-off on project acceptance criteria?
Is contract and actual resource deployment count the same?
Is skill analysis done for each member? Also, is action taken if it does not match?
Does the client have concerns/complaints? If yes, what actions have been taken to address it?
Is schedule prepared and updated periodically?
Are weekly status reports shared with the client
Review Project Hygiene review report and identify corrective and preventive actions based on the summary report.
Analyze the actions in consecutive meeting
If you follow these steps, I am pretty confident that your project will not enter the much loathed 'red' zone. If you can recommend some more actions to stop projects from moving over to the 'Red' Zone, please leave your comment along with the solution.
In my next blog in the series, I will write about the steps needed to bring a 'red' project back on track.