In our article on attention management, we covered the importance of controlling our attention, avoiding distractions and focusing only on what we choose. Here is a curated list of books to help you accelerate your attention management process, and boost your productivity.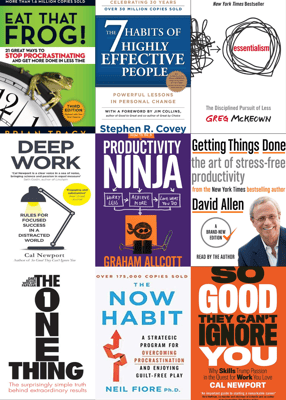 A list of self-help books to help boost productivity and personal/professional growth
Eat That Frog!21 Great Ways to Stop Procrastinating and Get More Done in Less Time
- Brian Tracy
There just isn't enough time for everything on our to-do list - and there never will be. Successful people don't try to do everything. They learn to focus on the most important tasks and make sure those get done. They eat their frogs.
There's an old saying that if the first thing you do each morning is eat a live frog, you'll have the satisfaction of knowing you're done with the worst thing you'll have to do all day. For Tracy, eating a frog is a metaphor for tackling your most challenging task—but also the one that can have the greatest positive impact on your life. Eat That Frog! shows you how to organize each day so you can zero in on these critical tasks and accomplish them efficiently and effectively.
The 7 Habits of Highly Effective People
- Stephen Covey
It is rightly said that habits make or break a man. If you want to know why you are not doing something right, sometimes all you need is to perform an analysis of your habits and consider altering them. Because sometimes it's not about what you do, but more about how you do it! And that's where your habits play a very important role. 'The 7 habits of Highly Effective People' is a book that aims at providing its readers with the importance of character ethics and personality ethics. The author talks about the values of integrity, courage, a sense of justice and most importantly, honesty. The book is a discussion about the seven most essential habits that every individual must adopt to in order to live a life which is more fulfilling.
Essentialism: The Disciplined Pursuit of Less
- Greg Mckeown

Essentialism is a book which deals with situations wherein people would find themselves in the middle of an information explosion. They could also feel occupied with a lot of work, but still be unproductive.

There are times when people follow the notion that they have to do everything, but on the contrary, they end up doing nothing. There is no specific direction to their tasks and neither to their goals. Essentialism as a concept narrows down this notion into doing the right things which are absolutely necessary, in a right manner and at the right time. It is about categorizing things as important and unimportant as per one's personal goals and doing only the important things.

This ensures that there is a proper channel for one's energy, time, and effort, which can be applied to a specific goal in order to achieve it. Essentialism, the book, helps the readers in adopting this disciplined way of thinking which can be practiced and applied in real-life scenarios to achieve lasting success.
Deep Work: Rules for Focused Success in a Distracted World
- Cal Newport
Cal Newport discusses in his new book, Deep Work: Rules For Focused Success In A Distracted World, about how professionals of today have started valuing quantity over quality; and how this has turned young professionals of today into puppets who try to indulge in extensive multitasking, dealing with multiple emails and projects. This prevents them from doing 'deep work'; which is focused work free from all other distractions. This also means that the professionals of today should sort out their priorities.
Newport uses principles of psychology and neuroscience to enhance his points. He elaborates how to improve a person's cognitive abilities and how employers should encourage workers to not take shortcuts for completing projects.
How to Be a Productivity Ninja: Worry Less, Achieve More and Love What You Do
- Graham Allcott

In the age of information overload, traditional time management techniques simply don't cut it when it comes to overflowing inboxes, ever-expanding to-do lists and endless, pointless meetings. Thankfully there is a better way: The Way of the Productivity Ninja. Using techniques including Ruthlessness, Mindfulness, Zen-like Calm and Stealth & Camouflage you will get your inbox down to zero, make the most of your attention, beat procrastination and learn to work smarter, not harder. Written by one of the UK's foremost productivity experts, How to be a Productivity Ninja is a fun, accessible and practical guide to staying cool, calm and collected, getting more done, and learning to love your work again.
Getting Things Done
- David Allen

Since it was first published almost fifteen years ago, David Allen's Getting Things Done has become one of the most influential business books of its era, and the ultimate book on personal organization. "GTD" is now shorthand for an entire way of approaching professional and personal tasks, and has spawned an entire culture of websites, organizational tools, seminars, and offshoots.
The ONE Thing
- Gary W. Keller and Jay Papasan

The One Thing is a book that focuses on how to avoid perplexing distractions that come on one's way. By doing this, they can concentrate on the one thing that is the most important at that point of time. The book assists in reducing daily life stress, triggering one's motivation to get enthused in their actions targeted on their goals, overcome the feeling of exhaustion caused by overwhelming events and achieve better results in an effective time period. The book comes in handy for people indulged in business and helps them increase the efficiency of their work and remove the hindering factors.
The NOW Habit
- Neil Fiore

Featuring a new introduction and a new section providing strategies to understand and deal with the role technology plays in procrastination today, THE NOW HABIT offers a comprehensive plan to help readers lower their stress and increase their time to enjoy guilt-free play. Dr. Fiore's techniques will help any busy person start tasks sooner and accomplish them more quickly, without the anxiety brought on by the negative habits of procrastination and perfectionism.
So Good They Can't Ignore You
- Cal Newport
Cal Newport's clearly-written manifesto flies in the face of conventional wisdom by suggesting that it should be a person's talent and skill - and not necessarily their passion - that determines their career path. Newport contends that trying to find what drives us, instead of focusing on areas in which we naturally excel, is ultimately harmful and frustrating to job seekers. The title is a direct quote from comedian Steve Martin who, when once asked why he was successful in his career, immediately replied: "Be so good they can't ignore you" and that's the main basis for Newport's book. Skill and ability trump passion. Newport presents compelling scientific and contemporary case study evidence that the key to one's career success is to find out what you do well, where you have built up your 'career capital,' and then to put all of your efforts into that direction.