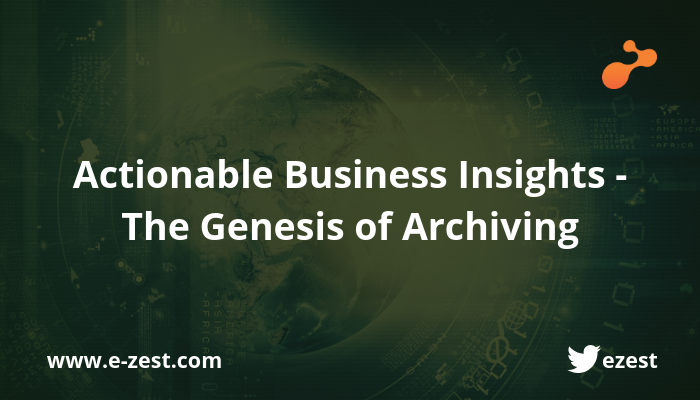 Advances in computing and the advent of big data coupled with social media and many other communication platforms are generating an unprecedented volume of data, which if tagged and analyzed, can provide valuable business insights. However, at the same time, this presents enterprises with a dual scenario — while one offers an opportunity, another offers a challenge to rightly meet the perpetually increasing demand for data storage, and the need to perform analytics on stored data.
Most enterprises have by now realized the value of integrated data. However, managing huge amounts of the same data is not easy and can eat up resources. Maintaining all this information within the source application is neither cost effective nor scalable. Purging the data is also not an option due to both internal and regulatory policies on data retention. In order to effectively manage and analyze the data, enterprises must include data archival as part of their data management lifecycle — Data Archival solution which is scalable, cost-effective, that can easily address the data storage, management, and analytics needs.
An archival solution is a great first step if the solution that archives all transactional and communication data, master and reference data as well as metadata in one central location for easy search, eDiscovery, and exporting is ideal.
The key factors that demand of modern data archival:
Volume: The amount of data that needs to be stored and retained is growing exponentially
Variety: Different types of data formats (like video, audio, images, weblogs) need to be stored, in addition to traditional structured data
Scalability: The maintenance of data should be easily scalable and cost-effective
Compliance: The archived data needs to be maintained for different time frames as mandated by different regulatory, legal, and business policies
Retrieval: The stored data should be easily and swiftly retrievable
Integration: The data stored should be easily available for business analytics integration
The need for an archival solution arises due to migration or to retire legacy systems. While there are many archiving solutions, not all data archival solutions are created equal. In the world of data archival, there are nearly as many different types of archives as there are vendors. Understanding the business of data archiving solutions that apply to your industry is very crucial.
Let's explore
data lake archiving
- the stage of inquiry where most enterprises spend significant time.