SmarterMe is an intelligent native mobile app acting as the Command Centre for Sales, when coupled with Salesforce. It helps the salesperson be more productive "on the go" by bringing the right applications and insights into their inbox where they can take contextual actions with a few taps on their mobiles. SmarterMe personal assistant also suggests the next best actions. It speeds up your Pipeline, Sales Productivity, Sales Win Rate, Forecast accuracy and Revenue when integrated with Salesforce CRM.
SmarterMe is designed with the user's role in mind, starting with sales, and the desire to make them productive away from the desk. SmarterMe brings the power of data science, mobile design, and contextual integration to every user and not just the management team. The app helps salespeople, across hundreds of companies, to save time and close more deals using SmarterMe on their mobile device, even offline!
SmarterMe can help significantly cut down the time spent on salesforce management and administrative tasks while providing actionable sales intelligence, all on-the-go and in your flow of work.
This results in more time in front of the clients and closing business faster or more often.
SmarterMe works with Gmail and Outlook, All Calendars, Phone, Text / SMS, Salesforce.com, Box, Drop Box, Google Drive, LinkedIn, Twitter and Facebook and much more to come. Best of all, it deduces Sales IQ (Intelligence) based on insights gained from enterprise data of the user. It is an enterprise grade and fully customizable for the customer's sales process.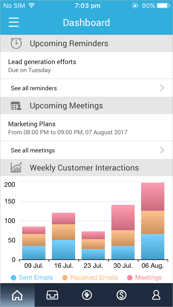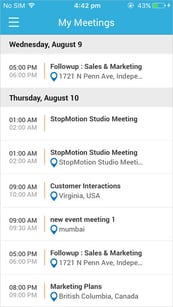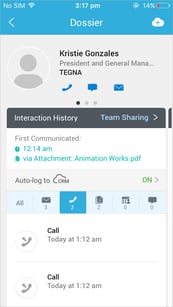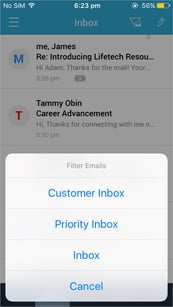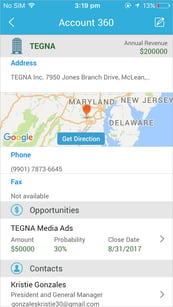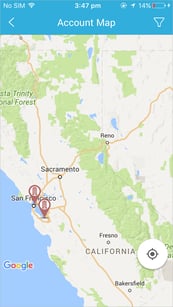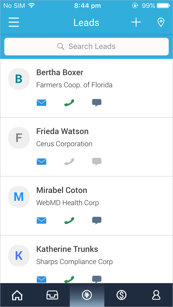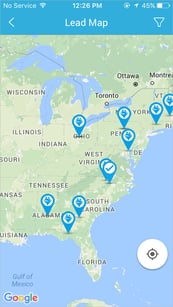 Here are some of the key features of SmarterMe:

Dashboard - View upcoming reminder & meeting along with weekly customer interaction stats.
Manage salesforce (EVEN OFFLINE) - Log emails, meetings, phone calls, notes, tasks, add contacts, create and update opportunities in salesforce.com. It works fast and reliably every time.
Post call assist - Be reminded to log an event into Salesforce when you initiate a phone call in SmarterMe; never forget to post notes, follow up or create/update opportunities in salesforce.com after any call.
Post meeting assist - Be reminded to log a calendar event in SFDC or create a follow-up actions after your customer meeting; never forget to post notes; follow up or create/update opportunities in Salesforce after any call.
Email and attachment tracking - Composing emails with SmarterMe; tracks views on opened emails and attachment (links); use the stats to prioritize deals and timely calls.
Tracking IQ / Deal IQ (Intelligence) – Email tracking is possible in real time with track analytics when customers open, forward email or interact with your company's content.
Relationship IQ (Intelligence) & team collaboration - Know every interaction (emails, files sent, phone calls and texts sent from SmarterMe App) with prospects across the entire field sales team and partners in one glance. Just turn the "team sharing" toggle on.
Customer social research - Be notified before every meeting and get all your social research come to you with a couple of taps - LinkedIn, Twitter, Facebook and many more to come.
Rolodex power dialer - All your contacts from Salesforce, LinkedIn, phone and email merged together. The best part is that you can filter your contacts by "my customers" which sorts all your prospects and customers in order of your most recent contacts based on your accounts, contacts and opportunities in Salesforce.
Scheduling B2B customer meetings made easier - SmarterMe personal assistant automatically schedules meetings from your calendar based on Personal or Team Availability.
All your sales collateral in one place - Dropbox, Box, Email and Google Drive on one platform.
Salesforce auto logging - Auto log your interactions into SFDC (e.g. calendar meeting) in the contact detail view, with SmarterMe Auto Log toggle.
Prioritize your inbox - Filter your emails with the filter menu on top of inbox screen.
Intelligent geo location - Be alerted when you are on the road and there are nearby accounts and leads that are good targets and have potential opportunities based on the past deals closed. Get driving directions and get optimized routes.
Intelligent reminders - Intelligent reminders to follow-up (Follow-up IQ) and update Salesforce and much more.
If you are a Salesforce CRM user and want to enhance your sales productivity, connect with us at sales@smarterme.co or call us at +1(650)524-5470