Transmitting the exabytes of data that all the devices generate each day to the cloud for analytics in the Internet of Things is almost certainly unviable. Servers will not be able to service the requests and respond within acceptable time limits. Besides, a lot of that data will also be contextually transactional.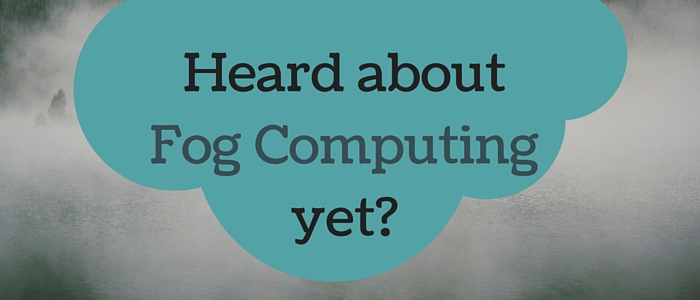 It would be more efficient, responsive and appropriate to analyze such contextually transactional data with local network computing power and pass only the data with more global relevance to the servers in the cloud. And that's what fog computing is all about! Termed by Cisco, fog computing or edge computing involves analyzing the transactional data locally and taking intelligent decisions about what to pass to the cloud.
The emerging technology of fog computing (also known as fogging) will use edge servers for a local 'mist' area. You can visualize the 'cell' phone geo-implementation structure here. Each mist is akin to a cell in a mobile network. It would not be wrong to term it as a 'distributed cloud, with a cloud backbone. Each mist will be capable of quickly transferring the local transaction data to the next mist if and when the object moves to the next mist.
A smart city, for instance, will have a GPS-enabled device on every public vehicle. An ambulance rushing down the road will be identified by the edge server controlling the traffic signal and clear all the upcoming traffic lights as the ambulance approaches, helping it reach the location faster.
Another case could be of a public vehicle involved in an accident. It can be identified by its unexpected immobility within a few minutes and distress signals will be transmitted to the local police, health and fire brigade teams. Again, their approach will be powered by the smart signal control.
In either of the cases above, the transactional information is not globally relevant and would take an order of magnitude more time if processed by a cloud server. While the summary of incidence is of importance to be recorded on the cloud server for global access, the transactions are of local importance.
Fog is evolving around the Cisco IOx and will likely implement millions of edge servers with specialised apps each designed to respond to a specific kind of request. These edge servers in turn will be linked to cloud servers in real time and will be capable of taking intelligent decisions about information exchange.
What do you think about its possibilities? Do let me know in the comments.