Medicare is a federal health insurance plan for seniors (65+) in the United States (US). Plan eligibility may start earlier in case of Disability, End Stage Renal Disease (permanent kidney failure needing dialysis /transplant), or Amyotrophic Lateral Sclerosis (ALS /Lou Gehrig's Disease). The Medicare plan is administered by the Centers for Medicare & Medicaid Services (CMS), a federal agency. Federal Medicare is also known as "Traditional" or "Original" Medicare.

Medicare has four parts –

Part A

covers inpatient services (hospital care, skilled nursing facility, hospice care, and home health care) and is commonly known as "Hospital Insurance". If you or your spouse paid Medicare taxes for around 10 years, you can qualify for a free premium Part A plan (also called Premium-Free Part A). If Medicare taxes paid is for less than 10 years, enrollment in Part A is still possible but chargeable–one needs to pay a monthly premium (Premium Part A)

Part B

covers outpatient services–Doctors and other health care providers, durable medical equipment, and some preventive services including vaccines and cancer screenings. Part B is commonly known as "Medical Insurance" and doesn't come with a free assurance. Members need to pay a monthly premium for Part B. Though premiums can vary depending on the income level of the member and the timing of the enrollment, payment is largely consistent as most people pay the standard premium component

Part C

necessarily covers everything that Medicare Part A and Part B cover, but it is offered by private companies (United, Humana, CVS Health, Centene, etc.) as an alternative to traditional /original Medicare plans administered by the CMS. Part C plans are also known as "Medicare Advantage" (MA) and can offer additional coverage and benefits (dental, vision, hearing, and more) that the Original Medicare (Part A /Part B) doesn't provide. Part C premium varies by plan and ranges between $0 and $200 based on the extra benefits offered by the plans. The companies offering Medicare Advantage plans are often referred to as Managed Care Organizations (MCOs)

Part D

covers outpatient prescription drugs and is only provided by the private insurance companies that have contracts with the CMS. Members have the option to either enroll in a private Medicare Prescription Drug Plan (PDP) or a Medicare Advantage Plan that includes Prescription Drug Coverage (MA-PD). Part D premium varies by plan, drugs offered within the plan, and the income level of the member. For the plan year 2023, the average national premium per month for Medicare Part D was $32.74
In 2022, more than 28 million people were enrolled in the MA plans, which is around 48% of the entire Medicare-eligible population in the US. As of early 2023, an additional 2.7 million members were added to the MA-based plans. Based on the MA plans membership year-over-year growth, it is estimated that by 2030, 70% of the Medicare-eligible population will be enrolled in an MA plan and only 30% would continue to be with the federal /traditional /original Medicare. Due to the rapid growth occurring in this market segment, there has been an advent of several new start-up MA plans from Managed Care Organizations. In 2022, an average Medicare-eligible member had access to 39 MA plans, which increased to 43 MA plans in 2023.
CMS introduced a Star Rating System in 2008 to measure the quality and performance of MA-only, PDP-only, and Medicare Advantage Prescription Drug Plans (MA-PD). This Star Ratings system is based on a 5 points scale that ranges from 1 and 5, with 1 being the lowest and 5 being the highest. CMS uses the Star Ratings of a plan to determine the plan quality and pays a performance bonus (5%) to the high-performing plans on top of their risk-adjusted PMPM (Per Member Per Month) amount. In 2021, the performance bonus payment was $11.6 billion. Along with performance bonuses, high-performing plans also get higher rebates. As such, Star Ratings have a huge impact on MA-based contracts revenue for Managed Care Organizations. Plans performing better can afford to include additional supplemental benefits (groceries, meals, transportation, etc.) using extra rebates and so can be far more competitive than others.
Star Ratings also help Medicare members compare plan quality during the open enrollment period every year to decide whether to say goodbye to their existing plan or to ally with a new plan. Members usually tend to choose a plan that is higher rated as they feel they might become frustrated and underappreciated with plans that are lower rated. This is evident in the 2023 open enrollment period (Oct 2022) data which states that 72% of the MA-PD members were enrolled in plans rated 4 or higher. During the same period, around 51% of the plans available to enroll were rated 4 Stars or higher. However, earning a perfect 5 Stars rating is extremely difficult–only 11% of the plans /contracts were in the top 5 Stars rating.
For the 2023 Stars rating year, MA-PD plans were rated based on 38 quality and performance measures. MA-only plans were rated on 28 measures and stand-alone PDP- only plans were rated on 12 measures. The Star Ratings framework (including measures, and domain levels) from CMS is shown below: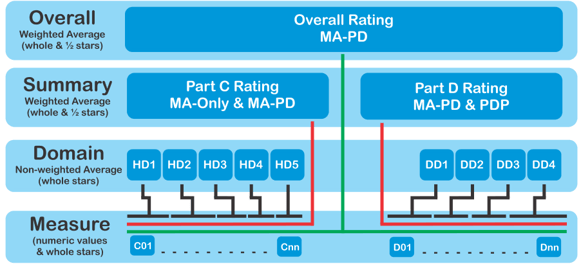 Source: cms.gov

For Part C Rating (MA-Only & MA-PDP), all the included Star measures (C01….Cnn) are rolled up into one of the 5 domains (HD1, HD2, HD3, HD4, HD5), as shown below–

Staying Healthy: Screenings, Tests, and Vaccines
Managing Chronic (Long Term) Conditions
Member Experience with Health Plan
Member Complaints and Changes in the Health Plan's Performance
Health Plan Customer Service
Every measure included in the Star Ratings system has an associated weight (varies from 1 to 5) that makes this system really great. CMS calculates the Star Rating at the "Summary" or the "Overall" level based on the average weight of all the included measures. CMS is never late to publish the Star Ratings for all contracted plans every year while people wait for the open enrollment start date.
CMS also makes an update to the Star measures (either by adding or removing a measure or changing the weight of some existing measures) usually every year to demonstrate its commitment to continuously improving the quality and performance of the contracted MA /PDP /MA-PD plans. Some of the recent changes in the measures during the 2023 plan year show a paradigm shift from a process focus to an outcome focus. CMS is serious about member experience and has started to put heavy weight on patient-centric measures. For instance, the weight of the patient experience/complaints and access measures were increased from 2 to 4.
Shown below are a couple of views based on CMS 2023 Star Ratings measures weight: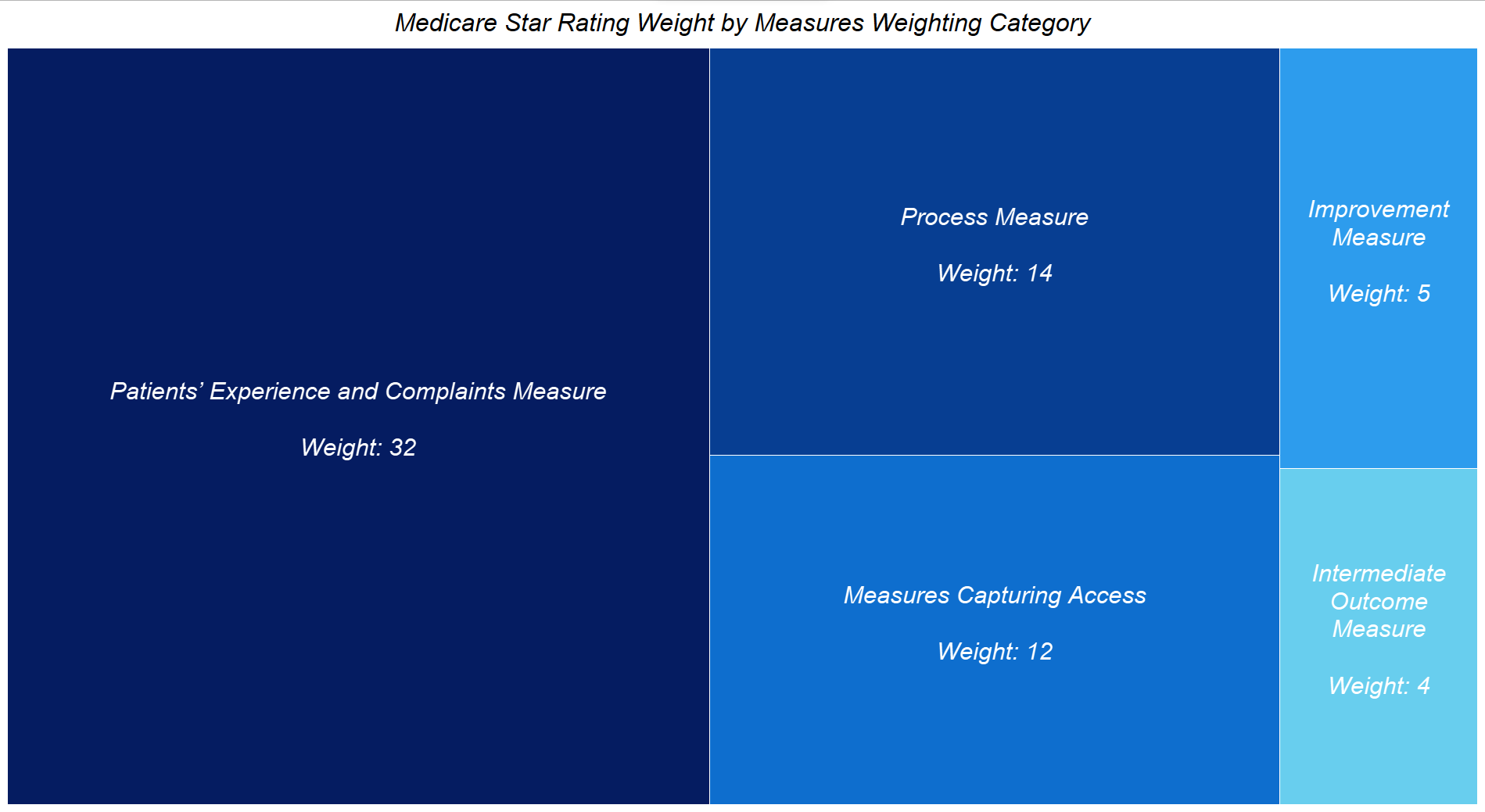 Data Source: cms.gov
As you notice, the aggregated weight of patient/member experience-related measures is over 50%. As CMS continues to put heavy weight on member experience-related measures, the success of a Medicare Advantage plan will depend on how well a member's journey is managed within the fragmented and complex health plan's ecosystem (payer, providers, pharmacy, auxiliary services). Access to Care, High-Value Care, Transitions of Care, and Customer Care will be the four pillars of success in the journey to provide an exceptional member experience. To know more about this approach, check our blog on "The Four Pillars of Patient Journey in Managed Healthcare".
In summary– No need to split hair to improve your Medicare Stars Rating. The key is to prepare for Patient-Centered Care.
Over the years, e-Zest has built many digital products and technology solutions for large to small HealthCare organizations that include Payers, Providers, and Payviders (providers + Payer). The digital solutions built by e-Zest encompass the entire member journey with a goal to not only manage but to keep everyone fully engaged and embrace the values of member experience in managed and value-based care. Contact us to learn how e-Zest can help improve your Medicare Stars Ratings.